A research initiative founded and directed by UC Riverside's Karthick Ramakrishnan was awarded the "Beacon of Democracy" from the Washington, D.C.-based organization Asian and Pacific Islander American Vote, or APIAVote.
Ramakrishnan, a professor of public policy and political science, established the initiative, AAPI Data, in 2013 with the goal of making demographic data and policy research on Asian Americans and Pacific Islanders, or AAPIs, more accessible to a variety of audiences. AAPI Data is now part of the Center for Social Innovation, which Ramakrishnan founded with significant philanthropic support in 2018.
APIAVote presents its Beacon of Democracy award annually to an individual or entity who has demonstrated leadership and served as a source of guidance and inspiration to increasing civic engagement.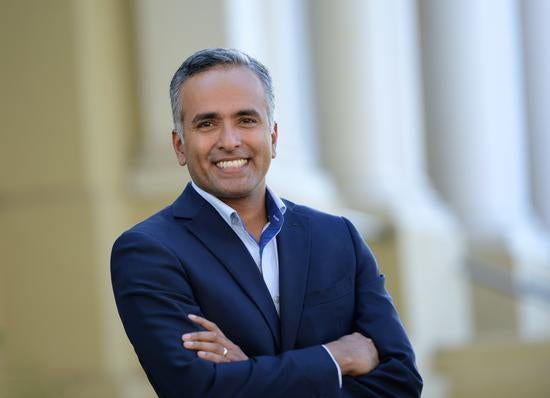 APIAVote Executive Director Christine Chen said the organization selected AAPI Data as this year's recipient of the award in recognition of the initiative's commitment to shedding light on the Asian American and Pacific Islander community — now the fastest-growing racial group in the U.S. — through ongoing research, surveys, analysis, and media engagement.
Chen noted that Ramakrishnan and the AAPI Data produce timely research and "strategically ensure it is utilized and injected into ongoing policy discussions and news cycles." 
Janelle Wong, one of AAPI Data's senior researchers and a professor of American studies at the University of Maryland, accepted the honor on behalf of AAPI Data during a reception held in Washington, D.C., on Dec. 11. Also in attendance to co-present the award were U.S. Rep. Judy Chu, a Democrat from Southern California who serves as chair of the Congressional Asian Pacific American Caucus, and U.S. Rep. Grace Meng, a Democrat from New York City. 
"Over the years, AAPI Data has been a critical partner of the Congressional Asian Pacific American Caucus and the communities we serve," Rep. Chu said. "Not only does their data help to better inform our understanding of the issues that matter most to the AAPI community, but it also equips us with the information we need to shape important policy discussions in Congress on a wide range of issues."
"I'm deeply appreciative of AAPI Data's work, which provides information on the growing impact of Asian Americans and Pacific Islanders in the United States," Rep. Meng added. "They are an invaluable resource for our community and help decision-makers understand the needs of our diverse AAPI community."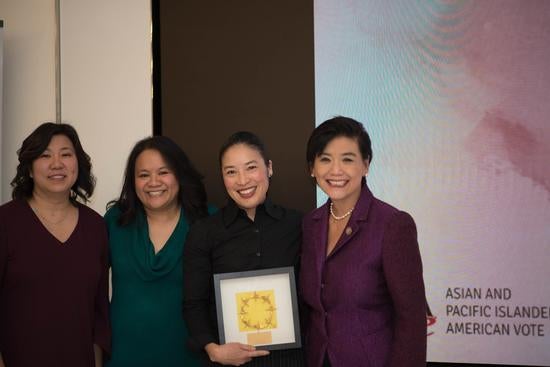 Ramakrishnan noted that in recent years, AAPI Data's researchers have collaborated with APIAVote to produce state fact sheets that have proven especially useful to elected officials involved in policymaking, like Chu and Meng.
The two groups also have partnered on the release of survey reports and infographics geared toward boosting the public's understanding of the Asian American and Pacific Islander electorate, including the 2018 Asian American Voter Survey commissioned before November's midterms. The project has benefited from the support of two UCR doctoral researchers in political science, Sono Shah and Sunny (Yiming) Shao, and the partnership of Wong and Jennifer Lee, a professor of sociology at Columbia University. 
Moving forward, Ramakrishnan said he and his research team hope to build relationships with student affairs organizations across the UCR campus that will allow AAPI Data to begin developing data for other key racial and ethnic groups. 
"AAPI Data started with a phone call from a reporter at The Economist after the 2012 election," he added. "After that phone call, I realized there was a need to educate journalists, policymakers, and the general public about the Asian American and Pacific Islander community. In 2019, we hope to leverage key partnerships at UCR to expand on our production of resources that enable audiences to learn even more about this community and others."