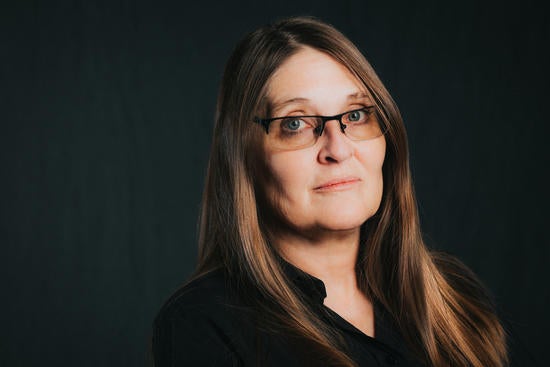 Imagine bustling streets full of people, colorful shops, and the sights and sounds of an international city. Now imagine a quiet village and a peaceful garden, surrounded by beautiful greenery and welcoming locals. Imagine delicious food, glistening awards, and an abundance of talented poets from all over the world.
This is just a taste of what UCR's distinguished creative writing professor Allison Hedge Coke experienced during her trip to China. She is the author of six poetry books and one memoir, as well as the editor of 10 volumes of work.
In December, Hedge Coke was awarded the First Jade Nurtured SiHui Female International Poetry Award and the title of Excellent Foreign Poet. She was one of eight international poets invited to the first Women's Poetry Week in Sihui, China, alongside more than 100 women Chinese poets, with critics and scholars presenting lectures and jurying the works. The famous Chinese poets awarded include poet Shu Ting, poet and professor Sun Xiao Ya, and cultural phenomenon poet Zheng Xiaoqiong.
The event, coordinated by the Poetry Center of China in Beijing, centered around trends and social and cultural expectations of international female poets, and included numerous themed lectures, research presentations and poetry readings. Hedge Coke was one of many guest lecturers, and read numerous original works at the readings. A portion of the event paid tribute to classical Chinese poetry, and the Jade award paid tribute to spiritual Chinese tradition attributed to women's strength and way of being. 
"It was a huge honor," Hedge Coke said. "I was stunned and shocked. To have an international award is really great for us at UCR. I'm thrilled, humbled and honored to have received such a prestigious award, and to have an opportunity to return to China."
After touring the local attractions, Hedge Coke attended a formal ceremony alongside poets from numerous other countries, including Russia, Turkey, Japan, Columbia, France, Korea and Vietnam. This final evening held an award ceremony, where she received credentials from the country, monetary compensation, a trophy and an engraved Jade medallion. Every major Chinese media entity covered the event. One asked Hedge Coke to create a poem for the occasion.
"I created a poem on the spot when they asked for one," Hedge Coke said. "I may have been the only poet that did. They asked 'can you give us a poem now for today' so I said 'give me a minute', and I came up with one and they loved it and printed it all over. It was fun, and the ceremony was very moving."