Dr. Scott Allen, a professor of clinical medicine in the School of Medicine, was the co-recipient with Dr. Pamela McPherson, a child and adolescent psychiatry specialist in Shreveport, Louisiana, of the 2019 Physicians for Human Rights Award in recognition of their efforts on behalf of children and families in immigration detention.
Actress Julianna Margulies presented the award to Allen and McPherson at a gala hosted in New York City by the Physicians for Human Rights, or PHR, in recognition of their work to end child detention in the U.S. immigration program. PHR honors the work of health professionals working on the front lines to defend human rights. The organization supports work fighting for justice; advocating for persecuted health workers and health facilities under attack; preventing torture, sexual violence, and mass atrocities; and holding those who violate human rights accountable.
"Physicians have an obligation to notify authorities of imminent threats of harm to children," Allen said at the gala. "When our warning to Homeland Security went unheeded, the ethics were clear: we were duty bound to notify Congress."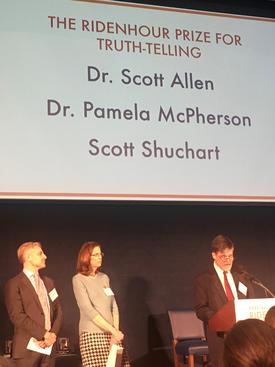 More here.
Allen and McPherson, along with Scott Shuchart, former senior adviser to the Office for Civil Rights and Civil Liberties at the U.S. Department of Homeland Security, were awarded the 2019 Ridenhour Prize for Truth Telling for the same work. The prize recognizes "those who persevere in acts of truth-telling that protect the public interest, promote social justice or illuminate a more just vision of society." The trio, who recently appeared on 60 Minutes, received the honor at the National Press Club in Washington, D.C.
More here.