Richard T. Rodríguez, associate professor of Media and Cultural Studies, received the Charles Weis Service Award at this month's LGBT Resource Center's Lamba Celebration.
The Charles Weis Service Award is named for the former director of the UCR Counseling Center. It honors outstanding contributions made to the LGBT and allies campus community by a current UCR staff or faculty member.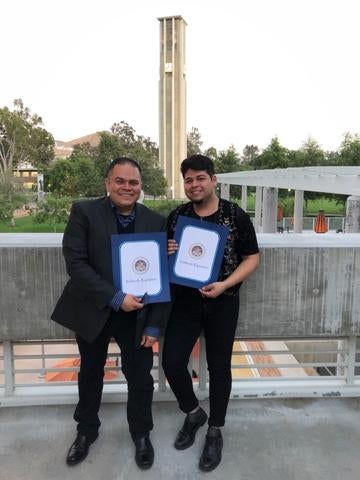 "I'm honored and thrilled to discover that I received the Charles Weis Service Award through the UCR LGBT Resource Center. It means so much to be recognized, especially for work I love doing," Rodríguez said. 
On June 2 the LGBT Resource Center hosted the annual Lamba Celebration where Lambda Awardees were honored. The event, which has been held for more than a decade, pays tribute to individuals and organizations that have made outstanding contributions to the LGBT community. 
Rodríguez was nominated by undergraduate student and mentee, Gabriel Guzmán. Guzmán this graduated this month and will be starting a doctorate program at Northwestern University this fall.
"He's a stellar student and it's been an honor working with him," Rodríguez said. 
Other Lambda Awards honorees
•    Gabriel Guzmán - Undergraduate Student Leadership Award  
•    Shawn Vee - Graduate Student Service Award  
•    Enrique Campos - Steven Shum Activism Award  
•    Crescent Rose - New Involvement Impact Award