A doctoral candidate in UC Riverside's sociology department has received a 2019-20 American Dissertation Fellowship from the American Association of University Women, or AAUW. Allison Monterrosa, whose research focuses on criminology, intimate partner violence, and the impacts of mass incarceration, will use the $20,000 award to support the completion of her dissertation over the next year.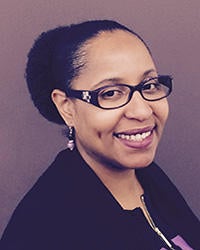 Monterrosa, a San Jose native and mother of two, described herself as a nontraditional student who went back to school at 30, starting with community college, and decided to pursue her doctorate after receiving her bachelor's degree. 
"A lot of the work I do now is shaped by my experiences as a black woman, as a survivor of intimate partner violence, and as part of this community that has been largely impacted by incarceration and the criminal-legal system more broadly," she said. "My two children and I had a lot of disruptions in our lives, but we were able to make it here because of the help of other people — mentors who guided me, my parents, and others who just really saw the value in me."
Most recently, Monterrosa has studied the effects of mass incarceration on black women's intimate romantic relationships. As part of her dissertation, she has conducted interviews with Inland Empire-based women between the ages of 18 and 60, focusing primarily on their romantic and dating experiences and relationships. 
"Romantic couplings are sites of power relations," Monterrosa said. "It's important to interrogate how we come to these couplings and understand what the external forces that might facilitate or impede them are. It's also important to understand how black women perceive this broader structure of mass incarceration that has ravaged entire communities and disrupted not only their familial ties but also their romantic relationships."
Black women, she added, have been historically understudied, and when they are studied, they tend to be unjustly pathologized. Monterrosa's research is situated within a framework of scholarship on the impacts of "system-impacted" populations — people who have been affected by the criminal-legal system, foster care system, and other social services systems. 
"All of these systems are connected and can cause families to be completely disrupted," she said. "And what previous research has found is that those who are most impacted by the prison-industrial complex, in particular, are pathologized. The question becomes, 'Well, what's wrong with them? Why didn't they do something to improve their life chances?' 
"What we as sociologists know, however, is that people are impacted by broader structures that affect not only their individual agency, but also their communities," she continued. "We should be critiquing the structures instead of pointing the finger at individuals. This is one small slice of the prison-industrial complex that I'm working to try to help dismantle to improve the life chances of black women, and more generally black people and racially oppressed groups."
The American Fellowships program is the oldest noninstitutional source of graduate funding for women in the United States. The program provides fellowships for women pursuing full-time study to complete dissertations, conducting postdoctoral research full time, or preparing research for publication for eight consecutive weeks.
Since 1888, AAUW has awarded more than $115 million in fellowships, grants, and awards to 13,000 recipients from more than over countries. For the 2019–20 academic year, the association awarded more than $4 million in fellowships and grants to roughly 260 scholars, research projects, and programs promoting education and equity for women and girls.