A UC Riverside sociologist has received an award for young scholars from the Neuron Foundation, a philanthropic fund established in the Czech Republic to support the advancement of Czech science. She is the first sociologist to receive it.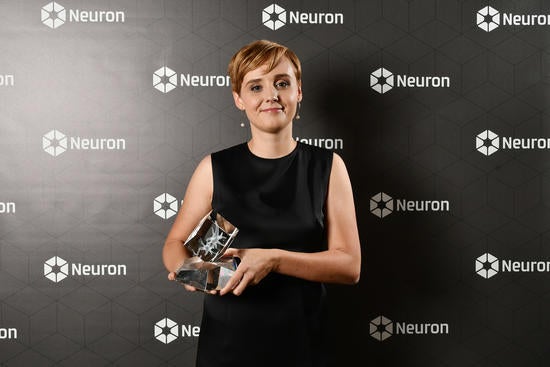 Lucie Kalousová, an assistant professor in the university's sociology department, was presented with a Neuron Award for Young Talented Scientists during a ceremony held at the Czech National Museum in Prague on Nov. 6. The award includes a cash prize of about $22,000. 
Kalousová, who was one of six early career scientists — and the only woman — selected to be honored this year by an international scientific committee, studies population health disparities in middle- to high-income countries. She received the Neuron Award for her research into the relationship between social inequality and health. 
"I was thrilled to learn that I was selected to receive the Neuron Award," Kalousová said. "As someone who has spent her entire career outside my home country, I was delighted to see my research has had an impact in the Czech Republic. The award is a great encouragement and will motivate me for future work."
The Neuron Science Awards were first presented in 2009, and since then, 85 scientists have been recognized by the foundation. The awards seek to highlight and boost the visibility of the efforts of top Czech scientists around the world in the fields of biology, computer science, physics, chemistry, mathematics, medicine, and the social sciences.
Kalousová, who joined UCR this year, received her doctorate in sociology and health services organization and policy from the University of Michigan in 2017. Before moving to California, she was a Postdoctoral Prize Research Fellow in sociology at Nuffield College, a graduate college of the University of Oxford in the U.K.