A UC Riverside sociologist has won an Independent Publisher Book Award, or IPPY Award, for her debut book, released last September by Stanford University Press. 
Victoria Reyes, an assistant professor in UCR's Department of Sociology, was largely inspired by the experiences of her own family members to write "Global Borderlands: Fantasy, Violence, and Empire in Subic Bay, Philippines."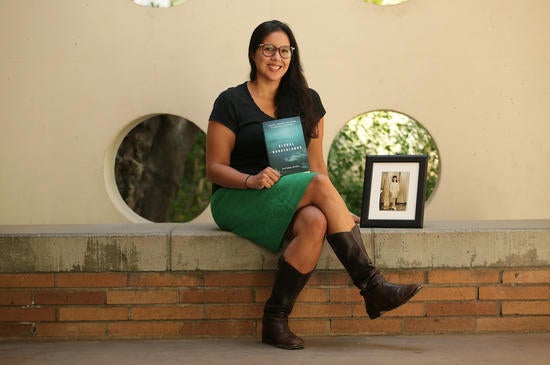 The book, which uses the Philippines' Subic Bay as a case study for a type of place Reyes has termed a "global borderland," took home a silver medal for Best Regional Nonfiction in the Australia/New Zealand region. 
"I'm honored to receive this silver medal for 'Global Borderlands,'" Reyes said. "I spent a lot of time writing and rewriting the book to make it accessible to a broader audience. The book doesn't fit neatly into any category — be it content-wise, stylistically, or methodologically — and I wondered whether people would 'get' what I was trying to do, so I'm very humbled and excited by the recognition."
Presented annually, the IPPY Awards are open to authors and publishers worldwide who produce books written in English and appropriate for the North American market. To qualify for an award, a book must have been released through a publisher that is independently owned and operated; operated by a foundation or university, as Reyes' book was; or incorporated but still operated autonomously. 
In her book, Reyes describes global borderlands as semi-autonomous, foreign-controlled, legally ambiguous places often geared toward international exchange. Such places can include overseas military bases, special economic zones, tourist resorts, international branches of university campuses, and embassies, among other examples. 
Reyes explores a combination of two of these through her work on Subic Bay, an overseas U.S. military base turned special economic zone. To get a fuller understanding of the area, she lived in Subic Bay for nine months in 2012-13, during which she interviewed locals and performed archival research, examining international treaties, tax documents, and more than 429 legal cases.
At their core, Reyes finds, global borderlands are places in which global tensions arise and global inequality is perpetuated and reproduced. 
Over six chapters, she tracks the various ways in which this occurs through the lenses of several different groups and individuals, including her grandmother, a Filipina "marriage migrant" who grew up near the U.S. Subic Bay Naval Base and came to the U.S. after marrying a U.S. serviceman. 
For the past year, Reyes has continued her research on Subic Bay through the American Fellowship program funded by the American Association of University Women. Her second book will look at how reputation shapes socioeconomic activities within countries. 
Read more about "Global Borderlands" on UCR News here.