Vicky Virgen, senior custodian in Facilities Services, has been featured in an industry magazine for her efforts to lead a comprehensive cleaning plan that swiftly kept campus residents safe in response to COVID-19. 
The publication, CleanLink, described Virgen as a "beacon of reliability" for the Facility Services Department at UC Riverside.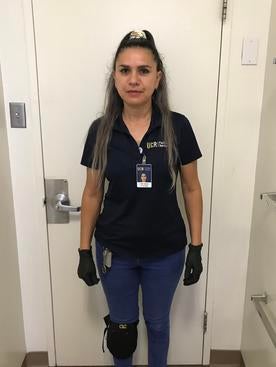 Jesus Retana, housekeeping supervisor in Facilities Services, described Virgen as "a positive worker no matter what comes her way." 
Retana, who is Virgen's supervisor and who suggested her for the feature, noted how Virgen takes the lead if a teammate falls behind and has a gift to make people laugh and feel welcomed. 
Virgen, who has been at UC Riverside for 13 years, is now working to ensure a safe living environment during the return of students to campus residences this past week and through the fall quarter. 
Aaron Uresti, assistant director of Custodial & Housekeeping Services, said that housing residents have often extended gratitude to Virgen by placing balloons and letters of thanks in her custodial closet. 
"Vicky always comes to work with a positive attitude and has great attention to detail. We are very fortunate to have her on our team."