Assistant Professor Ni'Ja Whitson's dance work has been recognized by two national arts organizations. 
Whitson was recently awarded the 2021 United States Artists Fellowship by the Chicago-based United States Artists, or USA, as well as the 2021 Technical Residency from the Center for Performance Research in New York.   
The United States Artists fellowship comes with an $50,000 unrestricted award; according to the organization's website, USA was established in 2003 to "illuminate the value of artists to American society and address their economic challenges." The Technical Residency was awarded in recognition of the impact of Whitson's career. Technical residents are invited to apply by invitation only; Whitson was the only artist selected in 2021.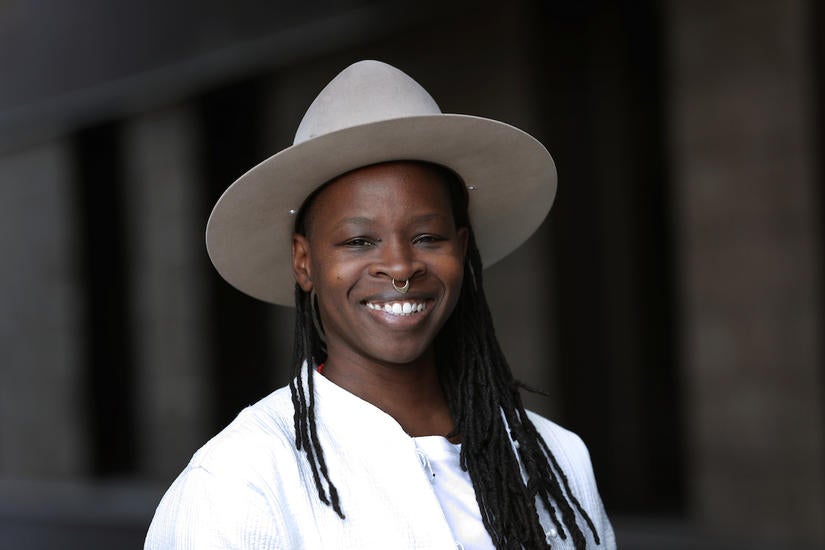 The fellowships will allow Whitson, a nonbinary transgender artist whose pronouns are they/them/theirs, to create new work. Their work often explores the African diaspora, spirituality, and gender, among other themes. 
They have already started on a new project, "The Unarrival Experiments," which will be co-developed with scientists, cultural theorists and producers, artists, and musicians.  The project asks: How do you see something you can't see? What if Blackness refused to arrive and exists in the unarrival? 
At UCR, Whitson, a two-time Bessie Award winner, teaches both graduate and undergraduate courses.
"These fellowships are a humbling reminder that 'the work' is my work," Whitson said. "It's important that our students witness their faculty centering their work, for them to see us deeply entrenched and continuing to wrestle with our world-making. These fellowships are supports on that journey. I am grateful. I am encouraged. I have work to do."
Whitson obtained their MFA in performance from the School of the Art Institute of Chicago and an MFA in creative writing from Goddard College. 
Other awards their work has garnered include a 2018-2020 Urban Bush Women Choreographic Center fellowship; Camargo/Jerome Foundation fellowship; and a Creative Capital award. 
"Ni'Ja is in very distinguished company with the United States Artist Fellowships," said Anthea Kraut, professor and graduate advisor in the Department of Dance. "Some of their fellow awardees are world famous. This is a truly momentous honor — for Ni'Ja and for UCR." 
— CHASS student writer Mina Shiratsuchi contributed to this article.