UC Riverside's Rosalia Lerner, a critical dance studies doctoral student in the Department of Dance, received the Selma Jeanne Cohen Award from the Dance Studies Association, an international organization of dance scholars, educators, and artists.
Cohen, who died in 2005, was an author, editor, historian, and teacher. Among her many accomplishments, she wrote the six-volume "International Encyclopedia of Dance," which was completed in 1998. She co-founded the quarterly journal "Dance Perspectives" and established the Dance Perspectives Foundation, which gives out the De la Torre Bueno Prize for the best dance book of the year, the most prestigious award in the field.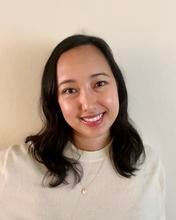 Lerner received the award for her conference paper "When 'Get Well Soon' is Not an Option: Sick-bodied Performance as an Alternative Ontology in Johanna Hedva's 'Sick Witch.'" The conference, "Galvanizing Dance Studies Building Anti-Racist Praxis, Transformative Connections, and Movement(s) of Radical Care," will be Oct. 14-17 . Lerner will be presenting in person at Rutgers University.
This paper is part of Lerner's critical dance studies dissertation project. 
"The Selma Jeanne Cohen Award is a huge honor because many of the scholars that I admire in the field of dance studies won it when they were graduate students themselves, including Dr. Kraut and Dr. Kedhar here at UCR's Department of Dance," said Lerner, who received a bachelor's degree in dance and performance studies from UC Berkeley and a master's in performance studies from New York University. "I look forward to presenting my paper at the Dance Studies Association Conference this fall."