Luat Vuong, a Marlan and Rosemary Bourns College of Engineering assistant professor of mechanical engineering, has been chosen to receive a Defense Advanced Research Projects Agency, or DARPA, Director's Fellowship. The fellowship continues for the third year of the DARPA Young Faculty Award Vuong received in 2019.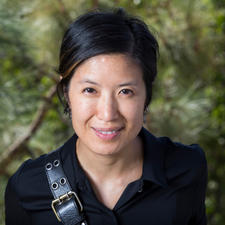 DARPA Young Faculty Awards support rising stars in research positions and engage them with mentoring and industry and Department of Defense contacts to develop their research ideas in the context of national security needs. A few of these highly talented and accomplished researchers are chosen each year to receive continued research support in the form of a Director's Fellowship. In past years, only a handful of the cohort received the full $500,000 for the third year.
Vuong will use the funds to continue working on hybrid photonic-electronic computer vision schemes that combine the advantages of optics and electronics. Optical preprocessing may flatten the power consumption of image calculations, while the digital signaling in electronics identifies correlations, provides optimizations, and calculates reliable decision-making thresholds. 
Vuong's ground-breaking image-processing technology is a unique combination of arthropod-inspired advanced vision system and sophisticated artificial intelligence algorithms. Some of the key features of this technology innovation include the ability to operate in extreme low light conditions, a wide field of view—about 170 degrees— and is characterized by its high processing speed of 20 frames per second, small size, low weight, and low power consumption, or low SWaP.
The Office of Technology Partnerships (OTP) at UC Riverside works with its inventors to develop strong IP protection strategies and commercialize their technologies. Vuong's technology is patent-pending and is available for licensing from the University of California, Riverside (UC Case 2020-236). Please contact OTP for further details.