Katja M. Guenther's book, The Lives and Deaths of Shelter Animals, has received the 2021 Distinguished Book Award from the American Sociological Association's Section on Animals & Society. The award, which recognizes a book that makes significant contributions to the sociological understanding of animals and society, will be presented at the Annual Meeting of the American Sociological Association August 6-10, held virtually this year.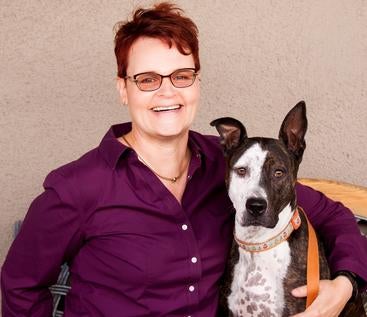 The book analyzes years of fieldwork that Guenther, a professor of gender and sexuality studies at UC Riverside, conducted in a high-intake public animal shelter in the Los Angeles area. She found that many ideas Americans have about why animals are in shelters echo and reinforce pre-existing negative beliefs about poor people of color in the United States, and place blame for animals dying at the shelter on these individuals, instead of on society. Guenther wrote that poverty makes it hard for many people to keep and care for the animals they love, while racist policing contributes to the incarceration of companion animals. Shelter volunteers and animal rescuers—who are overwhelmingly white women—struggle to improve conditions for impounded animals and reduce shelter killing, but their efforts largely fail to address the underlying causes of companion animal homelessness, such as poverty and precarity. Guenther's research found such caregivers generally reinforce the idea that white, financially secure people are the most desirable guardians for companion animals.
The book concludes with a passionate plea for multispecies justice and calls for policies that would make it possible for low-income people to maintain relationships with their companion animals. These policies include animal-friendly affordable housing, living wages, social and political recognition of the importance of human-animal bonds, and the incorporation of community members and animals themselves into developing shelter programming. 
"I am grateful to be honored for this book that I care about so deeply. I hope The Lives and Deaths of Shelter Animals will continue to encourage the animal sheltering industry—and all of us—to pay attention to how social inequalities influence all realms of social life, and to think more deeply about what we can do to achieve a compassionate and just future," Guenther said.