Children with attention deficit hyperactivity disorder, or ADHD, continue to be at risk for dropping out of school, substance abuse, and run-ins with the law. Why does this risk persist, even when patients seek treatment, particularly among underserved and minority children?
Kimberley Lakes, a professor of clinical psychiatry and neuroscience in the UC Riverside School of Medicine, has received a five-year grant from the Agency for Healthcare Research Quality, or AHRQ, to explore this question.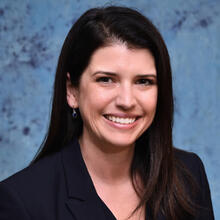 The grant of more than $1 million will support a project titled "Digital Health Intervention for Children with ADHD: Improving Mental Health Intervention, Patient Experiences, and Outcomes."
In the first two years of the project, Lakes and her research team will refine and extend a digital health intervention, or DHI, they developed in an earlier project for children with ADHD and their families. In the last three years, the researchers will conduct a randomized clinical trial with children with ADHD and their families to examine intervention outcomes.
The DHI Lakes and her team developed uses a technology that promotes co-regulation by the child and parent, captures patient data, supports efficient healthcare delivery, enhances patient engagement, and facilitates shared decision-making.
"The technology improves access to timely and targeted mental health intervention for children who are at great risk for poor outcomes," Lakes said. 
Lakes explained that the improved technology, which will show a child's current symptom severity, daily health behaviors, emotions, and treatment compliance, will integrate treatment across multiple points of care, enabling health care providers and caregivers to improve patient experiences and outcomes.
"Our preliminary work indicates a greater need for coordination across multiple points of care," Lakes said. "New features in the technology will improve quality of care as well as patient, parent, and provider outcomes." 
Lakes is confident her team's approach will ensure that investment in mental health treatment is not hampered by lack of reliable information, ineffective communication, delays in delivery of necessary treatment, and poor self-monitoring/self-regulation.  
"Children and families will get the interventions they need when they need them, leading to long-term positive outcomes in individuals and society at large," she said.
The project will involve the participation of undergraduate students, graduate students, and postdoctoral researchers at UC Riverside and through subcontracts with investigators at UC Irvine and Chapman University.
Earlier work by Lakes and her team is showcased in the most recent AHRQ report: Improving Healthcare Through AHRQ's Digital Healthcare Research (DHR) Program 2021 Year in Review. The report shares information for stakeholders looking to improve healthcare and outcomes including clinicians, health systems, policymakers, researchers, and patients.
"We are honored that our report is able to showcase your work as critical research that is helping drive the digital transformation of our healthcare system," wrote Steve Bernstein, a project officer at AHRQ, to Lakes. "We thank you for your efforts to advance the DHR mission of improving healthcare quality and safety at the patient, provider, and healthcare system levels."