New technology offers hope to more than 150 million people worldwide suffering from chronic back pain.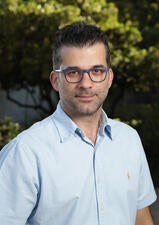 Vasileios Christopoulos, assistant professor of bioengineering, is using functional ultrasound imaging technology to understand how epidural spinal cord stimulation can reduce chronic back pain — a critical step toward relief. 
"Back pain is the number one disability in the world," said Christopoulos. "I took an Advil for my own back just this morning." 
Physicians offer a succession of treatments for chronic back pain, from pain killers and physical therapy to surgery. The final treatment available is implantation with a pacemaker type device that stimulates the spinal cord. It reduces chronic pain, but only has a 50% success rate. 
"One reason it fails is because we don't know how and why the treatment works," Christopoulos said. "For the first time, with functional ultrasound imaging, we can now look for biomarkers of pain, and changes of blood flow associated with pain reduction, allowing us to see whether spinal cord stimulation treatment is successful when patients are still under anesthesia."
The imaging technology can also be applied to treatments for other issues involving the spinal cord. There has not previously been reliable technology to image the human spinal cord, and as a result, many treatments for ailments involving that part of the body are unsuccessful.
For his work applying this technology to chronic back pain patients resistant to other pharmacological interventions, Christopoulos has been named a Hellman Fellow, a designation that helps advance the careers of junior faculty at University of California campuses.
The inspiration for this fellowship came from the experience of Frances Hellman, professor of physics, materials science, and engineering at UC Berkeley. She observed that young faculty were well funded when first hired, but that after a few years their resources were exhausted before other external support was viable. 
Christopoulos will receive $30,000 through the program this year to advance functional ultrasound imaging. He is working on the way computer algorithms interpret data received from patients through the ultrasound, and on the way the technology will be integrated with spinal cord stimulation treatments. 
The work is being done in partnership with the USC Neurorestoration Center at the Keck Hospital, where there is a large population of patients willing to help advance the research.
He hopes their collaboration will accelerate the time between patients receiving treatment and the assessment of how effective the treatment has been. 
"Imagine a future where you have patients with drug resistance to different neuropsychiatric issues, including schizophrenia, receiving advanced treatments for their conditions. We can use this technology to assess whether those treatments worked immediately, not months from the time the treatment is administered," Christopoulos said.