On Nov. 7, Scott Pegan, a professor of biomedical sciences in the School of Medicine, was promoted from reserves major to lieutenant colonel by the United States Army in a ceremony at the U.S. Military Academy, West Point, New York.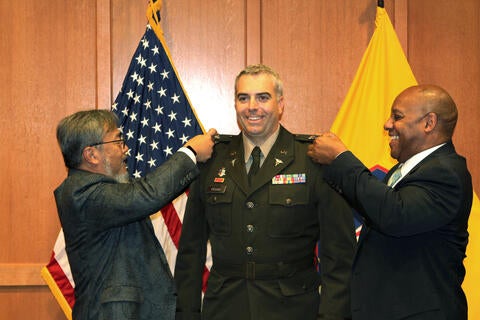 As part of the ceremony, Pegan presented a talk titled "Helping the Department of Defense Sleep Better at Night: Countering Viral and Nerve Agent Threats," which focused on work he and his colleagues are doing to safeguard against Crimean Congo Hemorrhagic Fever, or CCHF, as well as humanmade nerve agents.
 
CCHF is considered a priority emerging disease by the World Health Organization. CCHF virus (CCHFV) has been classified as a biosafety level 4 pathogen and is a Category A bioterrorism and/or biological warfare agent. There is no vaccine to help prevent infection and therapeutics are lacking. Already endemic in Africa, the Balkans, the Middle East, and some Asian countries, CCHFV has recently spread to Western Europe through infected ticks carried by birds.
 
In his talk, Pegan highlighted the molecular insights from his research program conducted with federal and industry partners and how these insights have addressed the CCHFV-related health concerns of the Department of Defense. Beyond discussing the advancements by him and his team of partners in creating new vaccine and therapeutic options for CCHF, he also discussed other threats to the U.S. military. This included both naturally occurring threats, such as the COVID-19-spreading SARS-CoV-2 virus, as well as humanmade threats, such as nerve agents.
 
"The recent use of organophosphate nerve agents in Syria, Malaysia, Germany, Russia, and the United Kingdom has reinforced the threat of their intentional release," he said.
 
At the ceremony, Pegan was also presented with a coin from the U.S. Military Academy's Department of Chemistry and Life Sciences in recognition of his contributions toward the development of their bioengineering curriculum.
Pegan is a U.S. Army Operation Iraqi Freedom combat veteran.