Christopher Lynch, the dean of UCR's Marlan and Rosemary Bourns College of Engineering, was honored this month by the National College Resources Foundation, or NCRF, at its 10th Annual Gala held at Cal Poly Pomona University.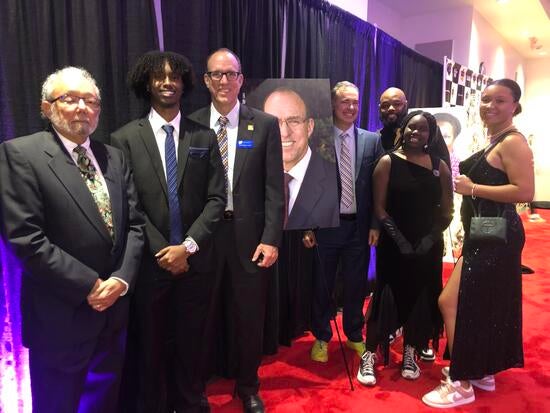 Lynch was one of six honorees to receive the World Changer Award, which is presented to individuals who have made significant differences in the lives of college students. Lynch was explicitly recognized for his work with Dr. Ernest Levister, Mr. Gordon Bourns, NSBE student leaders, and donors to establish a $100,000 endowment for UCR's Chapter of the National Society of Black Engineers.
It was the university's first endowment for a student organization and provides annual support for their professional development, mentoring, and community outreach. Lynch also worked with the NCRF to recruit Black students to the College of Engineering.
The NCRF strives to reduce high school dropout rates and increase higher education success among underserved, underrepresented, at-risk, low-resource, homeless, and foster students.  This mission helps close societal gaps in educational achievement, workforce placement, and economic success.
Lynch was named the fourth dean of the Bourns College of Engineering in 2018 and is the William R. Johnson Jr. Family Chair. He received his doctoral degree in mechanical engineering from the University of California, Santa Barbara. Before joining UCR, he served as chair of the Department of Mechanical and Aerospace Engineering at UCLA.