UCR researchers have been awarded a prestigious National Science Foundation (NSF) grant of $473,000 to investigate layered antiferromagnetic semiconductors for possible applications in future ultra-fast computers and electronic devices.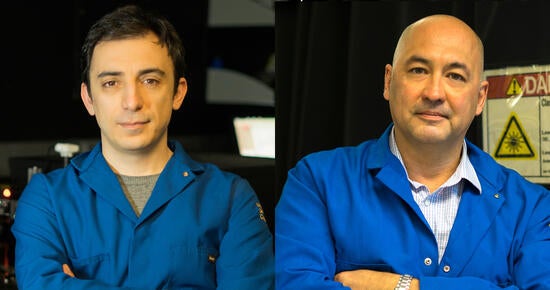 Fariborz Kargar, a research engineer and adjunct assistant professor at the Bourns College of Engineering's Department of Electrical and Computer Engineering (ECE), will serve as the principal investigator for the NSF project.
Alexander Balandin, a distinguished professor of ECE, will collaborate as a co-principal investigator.
The NSF award will allow Kargar and Balandin to study a unique type of two-dimensional semiconductors, which attracted the attention of the engineering community only recently. The materials under study reveal an interplay of electronic and magnetic properties, which can be used in future energy-saving electronic technologies. 
Kargar and Balandin, together with their graduate students, plan to use advanced optical and electrical measurement techniques to investigate electrons, magnons, and phonons – elemental excitation that define electrical, magnetic, and thermal properties. The new knowledge will help in developing approaches for future device technologies. 
The research will be conducted in the Phonon Optimized Engineered Materials (POEM) Center led by Balandin. 
Kargar received his doctoral degree from UCR in electrical engineering in 2016. His research interests are in optical spectroscopy and nanotechnology. Balandin is the UC Presidential Chair Professor of Materials Science and Engineering and the director of the POEM center.