Declan McCole, a professor of biomedical sciences in the UC Riverside School of Medicine, has been named a fellow of the American Gastroenterological Association, or AGA, the nation's oldest and most prestigious medical society dedicated to disorders of the gastrointestinal, or GI, tract. 
Through the fellowship program, AGA honors superior professional achievement in clinical private or academic practice and in basic or clinical research. Fellowships are awarded to AGA members whose accomplishments and contributions demonstrate personal commitment to the field of gastroenterology.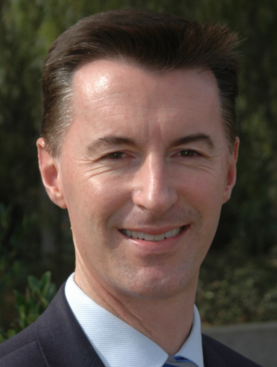 McCole is an expert on the epithelial barrier function, which is critical for maintaining a healthy intestine. A single layer of cells, the intestinal epithelium provides a barrier while also allowing nutrient and water absorption. When disrupted, it can lead to increased permeability or leakiness, which can greatly increase the risk of infections and chronic inflammatory conditions such as inflammatory bowel disease, celiac disease, Type 1 diabetes, and liver disease.
"This is a great honor to be recognized by the AGA and I am very humbled to receive this recognition," McCole said. "The AGA and its members have played an integral part in my scientific training and professional career development. Therefore, it is very special to be named an AGA Fellow. I would like to thank the AGA members who nominated and selected me, my AGA colleagues, and in particular my lab members past and present with whom I share this honor."
McCole received his doctoral degree in pharmacology and veterinary medical research from University College Dublin, Ireland, in 1997. His postdoctoral research was conducted at UC San Diego. He joined the faculty at UCR in 2013. Most recently, he was named recipient of three separate awards in recognition of his variety of work at the UCR School of Medicine. As an AGA fellow, McCole has earned the distinction of adding the designation "AGAF" after his name.
"AGA Fellowship recognizes AGA members with exceptional professional achievement in the field of gastroenterology and hepatology," said Dr. John Carethers, president of the AGA Institute. "Congratulations to the entire group of inductees." 
Founded in 1897, the AGA includes 16,000 members from around the globe who are involved in all aspects of the science, practice, and advancement of gastroenterology. The AGA Institute administers the practice, research, and educational programs of the organization.