Meli'sa Crawford, a postdoctoral researcher in biomedical sciences at the UCR School of Medicine, has received a University of California President's Postdoctoral Fellowship for the 2023–2024 academic year. 
The one-year fellowship covers the annual salary for postdoctoral researchers of about $67,000 and is renewable for a second year, contingent on demonstration of scholarly productivity and participation in program events. Crawford will receive an additional $4,000 for research-related expenses and up to $1,000 for travel related to UC campus visits to present work or for job talks and professional development.
The fellowship will support Crawford's research examining the effects of agricultural dust exposure on the intestinal barrier function. The intestinal barrier function is critical for maintaining a healthy intestine. When the intestinal epithelium is disrupted, it can lead to increased permeability or leakiness, increasing the risk of infections and chronic inflammatory conditions.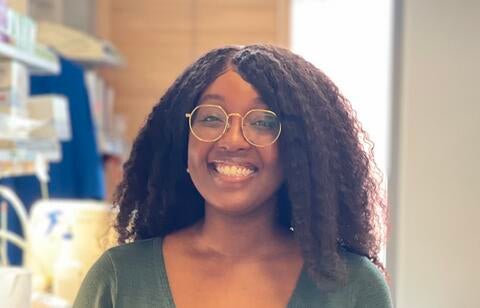 Crawford explained that her study has direct relevance to understanding how air pollutants drive chronic disease by modifying gut physiology. 
"This project lies at the intersection of climate change-induced environmental pollution, the rapid increase in respiratory driven diseases in inland California, and addresses causes of health disparities in poorer rural areas of the U.S. that are dependent on agriculture," she said. "This fellowship will help fund gut microbiome and metabolomic analyses following agricultural dust exposure to identify biomarkers of disease and recovery from dust-induced intestinal inflammation."
Crawford received her doctoral degree in biology with a focus in physiology at Arizona State University in 2019. As a doctoral student, she was awarded the National Science Foundation-Bridge to the Doctorate Fellowship in 2014. She has been a postdoctoral researcher in the UCR Division of Biomedical Sciences since February 2020.
"Meli'sa has demonstrated a remarkable tenacity to overcome various hurdles along her academic career that mark her out as someone with a great passion for research," said Declan F. McCole, a professor of biomedical sciences at UCR and Crawford's advisor. "In addition, she has demonstrated creativity in the design of her project, and an impressive ability to complete projects and get them published. I am delighted that the committee appreciated her talents as much as I and her lab mates do. This fellowship is a very special recognition, and she fully deserves this success."