One of the best rehabilitation and research hospitals in the U.S. has recognized Vasileios Christopolous, UCR assistant bioengineering professor, for developing new technology to detect signs of cognitive and motor system disabilities in infants.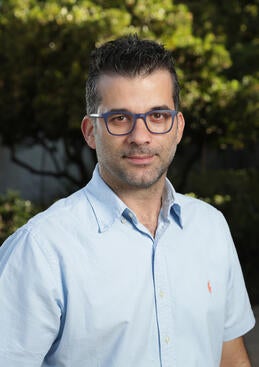 The Shirley Ryan AbilityLab, based in Chicago, has bestowed Christopolous with its highest award for his functional ultrasound technology work, which could allow researchers to diagnose and potentially treat disorders earlier, when treatments are more likely to be successful. 
Currently, it takes about two years to detect cerebral palsy. Functional ultrasound imaging will allow researchers to examine the brains of children between three and 12 months old, which Christopolous calls a "gray zone" for developing disabilities. 
"We know the brain is very plastic and amenable to treatments, even more so when we are first born. If we can find signs of abnormalities earlier, we can do interventions from the very beginning," Christopolous said. "If we wait until a child is 2, it is much harder to treat these conditions successfully."
Christopolous and his collaborators are particularly interested in studying the brains of infants born pre-term, because they are at higher risk of developing disorders. 
The research team involves an interdisciplinary group of 20 people, including UCR bioengineer Elena Kokkoni, pediatric neurosurgeon Jason Chu at Children's Hospital of Los Angeles, and Charles Liu of the University of Southern California's Neurorestoration Center. 
They will be looking for biomarkers that can predict differences between healthy infants and ones with a predisposition for issues. A biomarker can be anything that obstructs the way parts of the brain talk to each other, including blood flow between brain regions, which is what the ultrasound technology is measuring. 
"If we can find a signal in the brain that correlates to motor movements, we can develop an ultrasonic brain-machine interface, like an exoskeleton for infants. The brain would be able to move the hands with the device," Christopolous said. 
Functional ultrasound techniques require a window to the spinal cord. "Luckily we are born with such a window, the fundament, like the fontanelle in our skull. We can use that to image the brain," Christopolous said. 
Originally from Greece, Christopolous came to the US to do computer science work. Wanting to have more of a direct impact on peoples' health, he turned to neuroscience. In addition to his position with UCR, he is also adjunct clinical assistant professor of neurological surgery at USC, and a visiting associate in biology & biological engineering at Caltech.
(Cover image: hidesy/iStock/Getty)