Story by: Daniela Arreola Lemus, CHASS student writer 
Robin Uriel Russin's "2 Hearts" on Netflix became one of their top 10 internationally streamed films in May 2023.  
Russin, a professor of screenwriting and playwriting with UC Riverside's Department of Theatre, Film, and Digital Production, is the film's co-writer. "2 Hearts" captures the depth of loss people collectively experience from the passing of a loved one, as well as the silver lining that emerges from helping others with similar stories.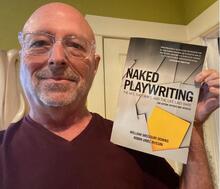 "2 Hearts" listed as number six internationally on May 27, 2023.
"I am very proud that the film, based on true events, has resonated so widely with an international audience," Russin said. "It is an unashamedly emotional film that people can connect with." 
Russin first received recognition for the film in 2020 when he received the Donate Life Hollywood Inspire Award from OneLegacy, a Southern California organ procurement center. 
Donate Life Hollywood aims to supply Hollywood screenwriters with true and accurate information regarding organ, tissue, and transplant donations. Their research has concluded that myth-based storylines on television deter people from registering as donors. Essentially, storylines such as Russin's help save lives. 
Russin has written, produced, and directed for film, TV, and the theater, including Warner Bros.' "On Deadly Ground"; "America's Most Wanted" on Fox; and "Vital Signs" on ABC. His original one-hour pilot script about King David, "Beloved," was adapted by ABC as "Of Kings and Prophets." His plays, "The Face in The Reeds," enjoyed a sold-out, four-month run at the Ruskin Group Theater in Santa Monica. 
In addition to writing, Russin also works as a sculptor and has taught art, literature, and art history. 
PHOTO CAPTION: Robin Russin is pictured holding "Naked Playwriting: The Art, the Craft, and the Life Laid Bare," a revised second edition published in January 2023. The first edition was published in 2005; this edition includes all the critical elements needed to write a play: concept, character, dialogue, story, as well as how to build a career as a playwright.