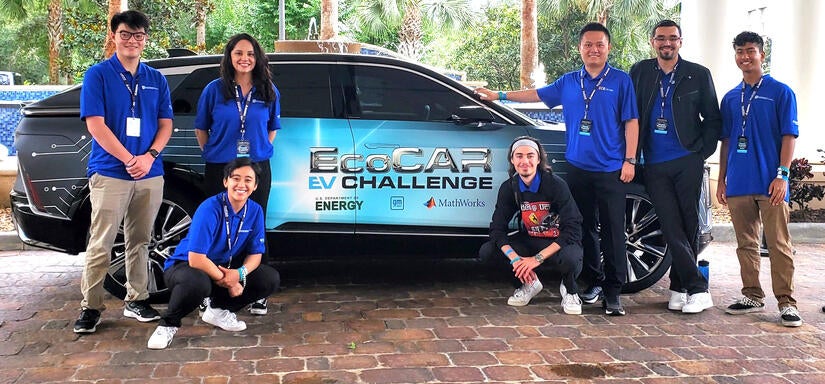 A team of UCR students won two awards at the EcoCAR EV Challenge Year 1 Competition in Orlando, Florida, in which students from across the country compete in designing improvements to electric vehicles.
UCR's EcoCAR Team won the Spirit of the Challenge Award, which was sponsored by the U.S. Department of Energy, and the Spirit of Communications Award for their efforts in the first year of a four-year competition.
The UCR team had been nominated for these awards by other teams in the competition because of the impressions team members made during the first year of the competition.
The Spirit of the Challenge Award is given to the team that exhibits exceptional perseverance in the face of adversity, maintaining a positive attitude despite significant challenges and obstacles, and pursuing exceptionally high technical standards. The Spirit of Communications Award recognizes a communications effort with leadership and sportsmanship.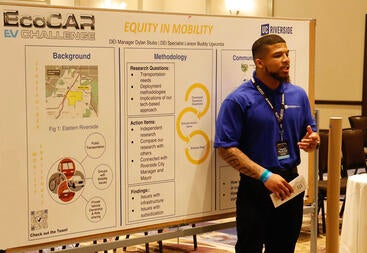 "We are proud of our UCR EcoCAR team. They worked hard all year, learning as they met all deliverables on time. We look forward to our EcoCAR team doing well in the next three competition years," said Matthew Barth, the team's lead faculty advisor and professor and associated dean at the UCR College of Engineering-Center for Environmental Research and Technology, or CE-CERT.
Heejung Jung, a mechanical engineering professor who served as a faculty advisor for
propulsion, control, and modeling, said the team put forth a good effort as a beginning team. 
"It was a great learning, training, education, and social networking experience," he said. "Students had opportunity to meet with experts in the auto industry, which makes the most extraordinary transition to electric vehicles from internal combustion engine technology."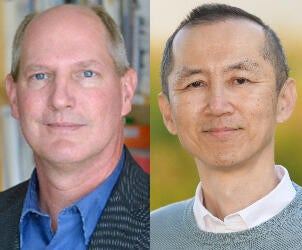 Teams from 15 universities demonstrated the potential of advanced propulsion systems, connected and automated vehicle technologies, and other innovative technologies to analyze energy efficiency on a 2023 Cadillac LYRIQ provided by General Motors. 
The university teams utilized a combination of onboard sensors and bidirectional vehicle-to-everything (V2X) connectivity to create energy-efficient and customer-pleasing automated control features. Teams also refined advanced powertrain along with charging and thermal systems to use grid electricity intelligently.