The Medical Scholars Program, or MSP, in the UC Riverside School of Medicine has received the 2023 Inspiring Programs in STEM Award from INSIGHT Into Diversity magazine, the largest and oldest diversity and inclusion publication in higher education. 
MSP is one of the medical school's pathway programs, which aim to diversify Inland Southern California's healthcare workforce. The programs encourage students from high school through college to take up careers in health and medicine. MSP focuses only on incoming and current UCR undergraduate students, such as those who are first generation to college and/or socioeconomically disadvantaged, preparing them for health professions and biomedical sciences careers.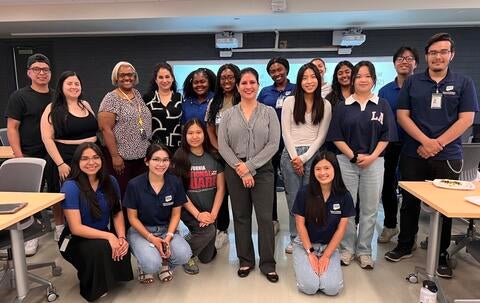 "I'm extremely proud of our Pathway Programs office for winning this award for the fifth time in the last six years," said Dr. Deborah Deas, vice chancellor of health sciences and the Mark and Pam Rubin Dean of the UCR School of Medicine. "Our esteemed Medical Scholars Program is so deserving of this recognition as it serves as a vehicle for UCR students who aspire to pursue careers in medicine."
The Inspiring Programs in STEM Award honors colleges and universities that encourage and assist students from underrepresented groups to enter the fields of science, technology, engineering, and mathematics, or STEM. UCR will be featured, along with 79 other recipients, in the September 2023 issue of INSIGHT Into Diversity magazine. 
The magazine selected the award winners based on efforts to inspire and encourage young people to consider careers in STEM through mentoring, teaching, research, and successful programs and initiatives. 
Teresa Cofield, who directs the suite of pathway programs, said MSP is "near and dear" to her heart. 
"MSP got launched in 2004 when its pilot program began with 15 students," she said. "It quickly broadened resources for students, particularly community college students. Among our pathway programs, MSP stands out because it is a cohort-based multiyear program, allowing students to grow professionally over four years. It also has a strong student leadership component led by program coordinator Stephanie Ochoa. Student feedback and suggestions, such as how can stigma around mental health be reduced, helps continually update the program."
A grant from the Howard Hughes Medical Institute in 2006 helped solidify MSP and gave it a boost. The grant came with resources for summer research experiences for students and allowed MSP to hire tutors and other personnel. Today, the program has a roster of more than 150 students and has served over 1,000 students. Currently, MSP is funded primarily by a grant from the California Wellness Foundation; some funding comes from the California Department of Health Care Access and Information.
Lenore Pearlstein, owner and publisher of INSIGHT Into Diversity magazine, acknowledged that STEM programs are not always recognized for their success, dedication, and mentorship for underrepresented students. 
"We want to honor the schools and organizations that have created programs that inspire and encourage young people who may currently be in or are interested in a future career in STEM," she said. "We are proud to honor these programs as role models to other institutions of higher education and beyond."