In 2012, John Martin Fischer, a distinguished professor of philosophy at UC Riverside, received $5.2 million from the John Templeton Foundation to study immortality — the largest grant ever awarded to a humanities professor at UCR.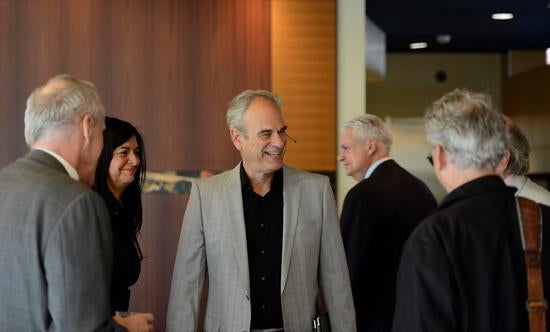 The funding supported the establishment of The Immortality Project, a research initiative directed by Fischer to advance our understanding of immortality and its relevance to the way we live in the present.
The three-year project, which incorporated contributions from 34 teams of academics and scientists at universities around the world, formally wrapped in 2015, with Fischer discussing some of its findings in a variety of media over the past several years.
His 2016 book, "Near-Death Experiences: Understanding Visions of the Afterlife," was co-authored by Immortality Project postdoctoral researcher Benjamin Mitchell-Yellin, and his latest book, "Death, Immortality, and Meaning in Life," will be released in June by Oxford University Press. In addition, Fischer has spoken about the project's output at lectures and other public engagements, with a fuller selection of findings available here)
On April 4, Fischer presented "Near-Death Experiences: A New Interpretation" as Washington State University's 56th Frank Fraser Potter Lecturer in Philosophy. Previous speakers to deliver the Potter Lecture include Noam Chomsky and the philosopher Harry Frankfurt, Fischer said. 
He also presented the lecture on April 12, this time at John Carroll University in Cleveland. The presentation was part of a long-term series supported by a gift to the university's philosophy department by alumnus and former Miami Dolphins head coach Don Shula. 
In late July, meanwhile, Fischer will present the keynote speech during the summer conference of the University at Buffalo's Romanell Center for Clinical Ethics and the Philosophy of Medicine. The lecture will be titled "Near-Death Experiences: To the Edge of the Universe."
"Near-death experiences, or NDEs, are amazing and fascinating," Fischer said. "There is no question that they are 'real' in the sense that they really occur, with similar characteristics across cultures. There is even a report of a NDE in Plato's 'Republic.' 
"But their meaning is highly controversial," Fischer added. "Do they prove that 'heaven is for real'?  Do they provide a 'proof of heaven,' as the neurosurgeon Eben Alexander contends?  I explore these issues, and I provide my own original interpretation of NDEs."
A leading philosopher on issues of free will, moral responsibility, and life and death, Fischer joined UCR's faculty in 1988. He is the only philosopher to be named a University Professor by the University of California Board of Regents, an honor he received in 2017, and has authored and co-authored eight books and more than 150 essays.