Research, dance, and politics will all intersect this quarter in the Department of Dance's weekly colloquium series, "New Research in Dance Studies: Ritual/Power/Corpo-Realities."
The series is coordinated by UC Riverside's María Regina Firmino-Castillo, assistant professor of critical dance studies. It will feature  both local and international artists and scholars. 
This quarter-long series offers research presentations and workshops most Wednesdays from 4:30-6:20 p.m. The events are free and open to the campus community.
"Corpo-realities" are processes involving bodies in motion that create worlds, contest them, and change them, Firmino-Castillo said.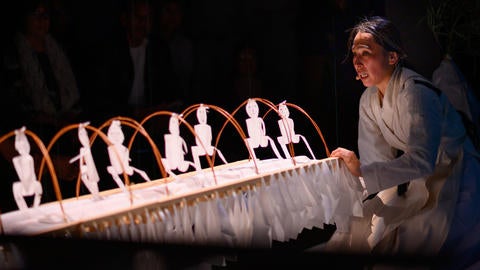 The first research presentation, titled "Queer Transformations: Religion, Sex, and Power/Play," took place on Oct. 2, led by UCR's Melissa Wilcox, professor and Holstein Family and Community Chair of the Department of Religious Studies. The colloquium on Oct. 9 will feature Dohee Lee, who employs music and performance, in addition to an indigenous Korean ritual. 
"The colloquium series features cutting-edge research and practice in dance and performance," Firmino-Castillo said. Invited artists and scholars will discuss "theory that happens through scholarship, writing, and dialogue, as well as that which happens through movement and other facilities of the body."
Firmino-Castillo said the series is also meant to invite the participation of colleagues and students in other departments, and in turn incite dialogue and collaboration across fields of study. 
Through research presentations, demonstrations, and workshops, the audience is invited to reflect on the political implications of these ritual acts, ranging from the mundane to the spectacular, Firmino-Castillo said. 
Specific colloquia sessions are co-sponsored by the Global Studies program within the College of Humanities, Arts, and Social Sciences, as well as the ethnic studies, music, art history, and religious studies departments.  
Upcoming performances
Oct. 9: Dohee Lee. "Mu / 巫: Engaging Immigrant and Refugee Groups through Shamanic Ritual" and Root (Puri) practice workshop.
Oct. 16: Cynthia Ling Lee and Shyamala Moorty. "The sins of such wonderful flesh." Artist talk and creative Workshop.
Oct. 23: Gloria E. Chacón: "Ajchowen's Embodiment of Kab'awil: Revising the Past to Change the Present"
Oct. 30: S. J Norman. "The Body: Spectacle of Truth and Theatre of Fantasy."
To see the complete colloquium series: "New Research in Dance Studies: Ritual/Power/Corpo-Realities."