For three years, UC Riverside's Healthy Campus group has been working toward creating programs that offer options for greater school and work-life balance. 
The group, which started as a health initiative in 2016, now works with different groups on campus and invites students, staff, and faculty members to participate. UCR Healthy Campus is part of the larger system-wide Healthy Campus Network supported by UC President Janet Napolitano. 
"Healthy Campus has created an infrastructure, formed cross-sector collaborations, and is working to identify ways to make health and well-being a priority, therefore creating a healthy culture change," said Julie Chobdee, UCR Wellness Program coordinator and Healthy Campus co-chair. 
UCR's Healthy Campus recently released its 2019 Milestone Report. It highlights several accomplishments, including: 
22 grants awarded to students, staff, and faculty members to complete health-related projects, totaling $23,000. 
At least 150 School of Business students have participated in Healthy Campus projects through Business 145, a course designed to allow students to work with subcommittees, research subject areas, and then make project recommendations based on their research. 
Three campus-wide surveys have netted 3,500 responses.
The creation of nine graduate student researchers and seven undergraduate student research positions.
Four buildings display "Take the Stairs" signage to motivate and help increase physical activity for those who are able to.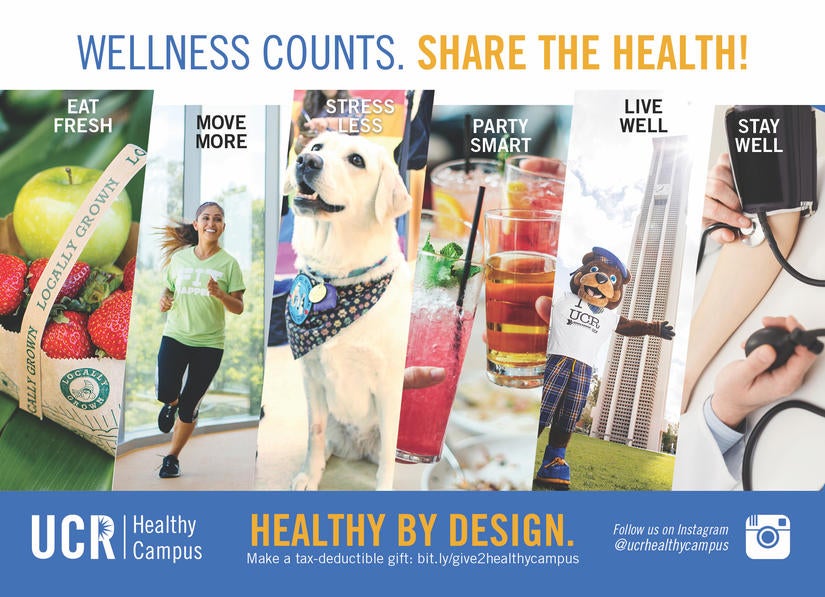 The list of wins also includes being recognized in 2018 by the American College Health Association with the Healthy Campus 2020 award. 
Since its implementation in October 2016, Chobdee has been steadily garnering campus leadership support, including from Chancellor Kim A. Wilcox and Deborah Deas, the Mark and Pam Rubin Dean of the School of Medicine. 
"The Healthy Campus program's ongoing efforts to build a campus culture of health and wellness are to be commended," Deas said. 
"We are committed to the health of our faculty, staff, and students and embrace an environment that both supports and encourages the health and well-being of our campus community," Wilcox said. 
Chobdee and co-chair Ann Cheney, an assistant professor in the Department of Social Medicine Population and Public Health in the School of Medicine, have worked with nine subcommittees, have managed to reach 3,600 students, staff, and faculty members in these past three years. Contact with these groups has been through educational sessions, presentations, campus-wide activities, among other methods.   
Achieving culture change in order to create greater school and work-life balance, the Healthy Campus group has deliberately sought collaboration from all sectors of campus. To date, more than 300 volunteers serve on the advisory committee and/or in one of the nine subcommittees. 
This type of response from students, staff, and faculty, is crucial in making Healthy Campus a sustainable effort, Cheney said. 
"Whether it's promoting walking, access to healthier food options, or changing the physical landscape, such as increasing access to tasteful water, we need everyone on board," Cheney said. "Our goal is to create cultures of health and address the collective needs of our campus. It's exciting that we are beginning to have health as part of ongoing campus conversations." 
What do future plans include?
Launching the fourth cycle of project grants 
Collaborating on healthy eating and food security issues with Global Food, Basic Needs, and other Healthy Campus partners
Installing markers for walking paths and submitting a proposal for a walking/running trail
Installing hydration and refilling stations around campus
Learn more about UCR's Healthy Campus: healthycampus.ucr.edu 
Read the full UCR Healthy Campus 2019 Milestone Report.