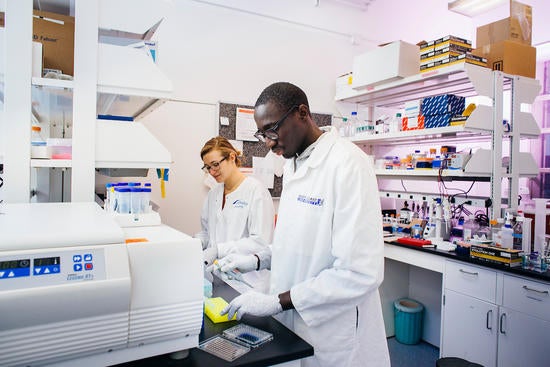 This story was produced in partnership with Claire Riss of the Center for Open Science. 
The Graduate Divison at the University of California, Riverside, and the Center for Open Science, or COS, today announced the promising results of a research ethics training intervention created to strengthen ethics dialogue among STEM lab members. Their findings were published in the Proceedings of the National Academy of Sciences. 
The National Science Foundation-funded study is titled "A randomized trial of a lab-embedded discourse intervention to improve research ethics." The randomized trial was integrated with the Open Science Framework, or OSF, an open science collaboration platform developed and maintained by the Center for Open Science. 
The study informs a new research ethics training curriculum called Institutional Re-engineering of Ethical Discourse in STEM, or iREDS. The curriculum facilitates interpersonal communication among science, technology, engineering, and mathematics lab members — students, faculty, and staff — to consider, as a working community, the best practices of their research. 
Led by the UC Riverside Graduate Division as a part of a campus initiative to promote ethical development in STEM research, the curriculum seeks to address the divide between the instruction of ethics in the classroom and the application of everyday ethics to the workflows and practices in the lab. 
"The iREDS approach shifts the paradigm of research ethics training from merely telling researchers what is and is not ethical, to empowering them to incorporate ethical practices into their research workflow," said Kevin M. Esterling, professor of public policy and political science at UC Riverside and the project's principal investigator. "The goal is to change the culture of science and engineering within the labs where research is produced." 
Specifically, the training is designed to routinize discussion of ethical best practices, which in turn could empower science and engineering lab members to justify their work not only to other lab members, as in this intervention, but also to the scientific community and the public.
The training focused on two topics in the responsible conduct of research: authorship and data management. The training curriculum was based on three principles. First, the training was conducted in the lab setting on a project that was currently underway in the lab. Second, the training was facilitated by the research team in coordination with a current graduate student in the lab. And third, the training was designed to reinforce lab members' skills at engaging in the interpersonal interactions required to discuss ethical justification of research practices.
The study team assigned 34 science and engineering labs at UC Riverside and Scripps Research to either receive the training or to a control group that did not receive the training. The results show that lab members in the training condition reported improvements in the quality of ethics discourse in their lab; a greater understanding of the relevance of ethics to their own research; improved lab climate; and an improved understanding of the importance of lab-centered policies governing authorship and data management.  
"The ethical dimensions of science are always and already inextricable from the science itself," said Dena Plemmons, director of UC Riverside's Research Ethics Education Program and the study's lead author and co-principal investigator. "This research has affirmed the importance of having explicit and purposeful conversations about ethics in the place where the science per se is actually done."
"COS is pleased to partner with the iREDS initiative through its collaborative infrastructure, the OSF," added Tim Errington, director of research at the Center for Open Science. "The OSF platform is designed to enhance within-lab communication and research transparency. Introducing labs to OSF integrated with project-based ethics training provides an opportunity to incorporate ethical practices within the lab's (digitally-mediated) routines."