Two UC Riverside paleontology graduate students have organized a two-week bake sale to support the communities, wildlife, and their colleagues affected by the wildfires in Australia.
Phillip Boan, 24, and Rachel Surprenant, 23, both paleontology master's students in the UCR Department of Earth and Planetary Sciences, with support from classmates, will be selling baked goods in the Geology building museum hallway from 8-11 a.m. daily until Jan. 24, with the exception of Martin Luther King Jr. Day on Jan. 20.
Proceeds of the fundraiser, Muffins for Marsupials, will support recovery efforts by Kangaroo Island Mayoral Relief and Recovery Bushfire Fund, as well as the South Australian Veterinary Emergency Management Inc., also known as SAVEM.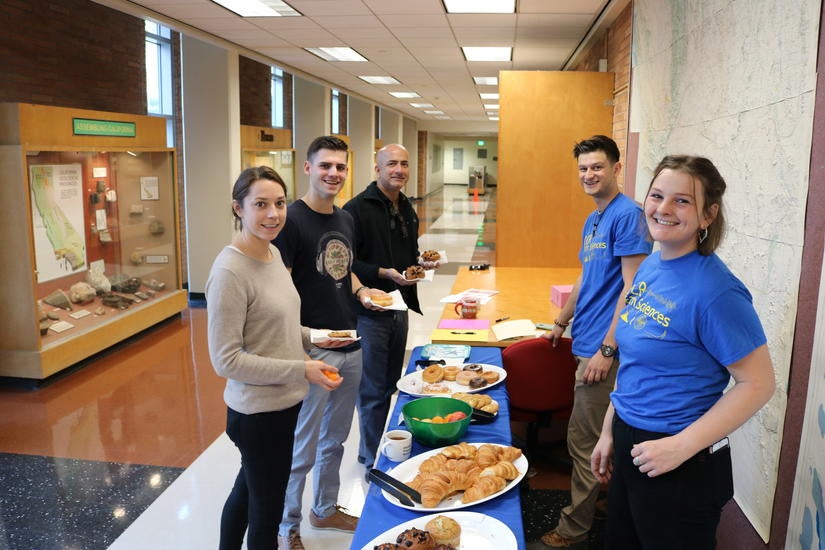 Both Boan and Surprenant have made research trips to the Australian Outback and are under the tutelage of Mary Droser, a UCR paleontology professor who has been conducting pioneering research there for over 20 years. 
According to the latest news reports, wildfires in Australia have burned millions of acres and have killed at least half a billion wild animals.
Although fires have not impacted Droser's research area, known as Nilpena Station National Heritage Ediacara Fossil Site, it's important to show their Australian counterparts support because some of their research sites have been scorched, they said. The Nilpena Station is a city-sized research space in central south Australia, where fossil beds date back to 550 million years.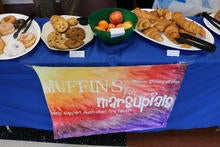 "We thought it was the right thing to do," said Surprenant, who researches Funisia dorothea fossils, which were once rope-like soft-bodied marine organisms. Surprenant said that Funisia dorothea fossils allow researchers to understand sexual reproduction in early species, among other things. 
"This is of ecological significance and colleagues of ours have been affected," Boan said of the fires. Boan is researching Aspidella fossils, also once a marine, soft-bodied organism that lived over 550 million years ago in the Australian Outback. He is creating 3D digital models along with mathematical testing to understand how Aspidella could have reproduced, inhabited space, and created ecosystems. 
Support Muffins for Marsupials bake sale  
When: 8-11 a.m., Jan. 14-24, except Monday, Jan. 20
Where: Geology building museum hallway (next to the mammoth replica) 
Price: Muffins $3, croissants $2, cookies $1; apples and clementines: 50 cents each. Pay with cash or Venmo Mary Droser at @mary-droser.