Driver assistance technology developed at UC Riverside that saves gas and reduces vehicle emissions took a road trip to the world's most influential technology trade show in Las Vegas this January. 
Attendees at the Consumer Electronics Show, or CES, got to try out cooperative merging technology created at the Center for Environmental Research and Technology, or CE-CERT, using a high-fidelity driving simulator.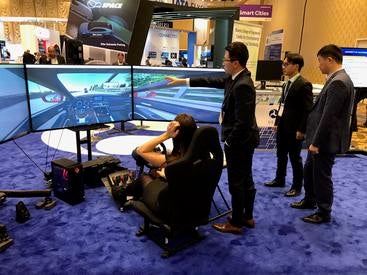 The UC Riverside research team attended the convention at the invitation of the U.S. Department of Transportation, which partly funded the research through the National Center for Sustainable Transportation.
For many drivers, merging onto a freeway is a frustrating and inefficient task. Smooth merges often require a view of the cars already on the freeway — the mainline cars — and excellent timing with the gas pedal. Rarely does everything line up perfectly, and both mainline and merging drivers end up braking and accelerating, wasting gas and increasing vehicle emissions, not to mention risking occupant safety.
Peng Hao and Guoyuan Wu, research faculty members at CE-CERT, solved this problem with technology that allows cars to communicate with each other and subsequently recommend speeds that create a gap between mainline vehicles so the merging vehicle can slide in. When done right, drivers can improve fuel consumption by approximately 10%-40% and reduce emissions dramatically.
To test this technology, designed to be incorporated into the software of internet-connected "smart" cars, doctoral students Ziran Wang and Xishun Liao built a sophisticated driving simulator using the latest gaming software and equipment. Users sat in a bucket seat and guided a simulated car through several possible scenarios using a steering wheel and brake and accelerator pedals. They followed onscreen speed cues to merge smoothly onto a busy freeway or open a gap for a merging car. At completion, users saw the percent difference between their expected and actual fuel consumption and vehicle emissions.
Over 200 CES attendees tried the eco-driving simulator, with varying results. As an added benefit of the technology demonstration, CE-CERT was able to capture valuable driver behavior data from the participants. This data will allow for the development of better driver behavior models that are crucial to the technology's development.
"It was a lot of work bringing and setting up our equipment to CES, but we had a great time with our demonstration and were able to get driving data from the public at the same time," said Xishun Liao, a first year doctoral student working on the project.
"It was quite an honor to be invited to demonstrate our technology at the CES; the experience was amazing," said Ziran Wang, who recently graduated and is now working for Toyota InfoTech Laboratories. "In addition, we got to see all of the latest consumer technology all around us."
This eco-friendly cooperative merging technology is part of CE-CERT's Eco-Driving Research Program led by Professor Matthew Barth.