The teams are continuously working to adopt best practices in order to continue feeding and housing students who remain on campus, while planning for the arrival of students coming to UC Riverside in the fall. 
At least 160 full-time Dining Services employees remain working on campus, often on rotating schedules due to reduced operations. The Housing Services team is still operating at full speed as well.
In the midst of COVID-19, these staff members have become essential workers, meaning their skills are key to keeping a portion of the campus open, safe, and fed.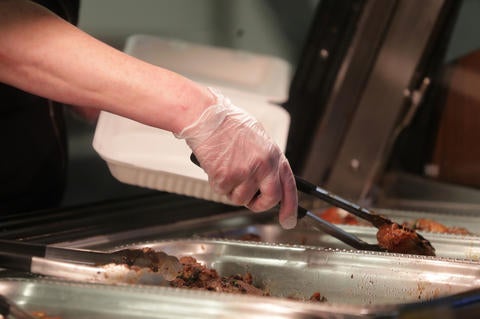 "We're putting out fires and figuring out what happens next," said Robin Hungerford, senior director of Dining and Hospitality Services. "But we're a great team and we are passionate about what we do."
In the days of COVID-19, the passion has taken many forms. At times it has meant Hungerford and David Henry, executive director of Housing, Dining and Hospitality Services, have spent half a day driving to pick up 100% cotton face coverings for their employees, as well as hand sanitizer from a distillery in Santa Ana. 
Other times it has meant delivering meals to students that include candy and a handwritten note — as a way to show support for students away from their families, Hungerford said.
Savor, the restaurant inside the Market at Glen Mor, is the only dining facility currently open, serving 250-325 daily meals. Starbucks and the Market also have a couple hundred visitors a day, Hungerford said.
For staff at Housing Services, the paperwork has not stopped. Due to the pandemic, 92% of students in residence halls, which amounts to more than 3,000 people, canceled their housing contracts, moving out a quarter earlier than scheduled, said Robert Brumbaugh, senior director of Housing Services. 
"Additionally, approximately 55% of students — or 1,600 — have cancelled their campus apartment contracts, while family housing remains full," Brumbaugh said. UCR offers student housing to more than 6,600 students, including those in family housing.   
Housing staff have been afforded little down time as they provide mail distribution, field routine inquiries and maintenance issues, update procedures due to pandemic mandates, and prepare housing contracts for students coming into UCR this fall.
"We have a wonderfully committed staff who make sure that students and student with families have what they need: housing," Brumbaugh said. "We continue to house a large number of students who do not necessarily have homes nearby or other homes at all, whether they are foster youth, international students, students with fragile domestic situations, or student families. For them, their apartment truly is their permanent home during this phase of their life."