For the second year in a row, UC Riverside computer science students under the supervision of  Paea LePendu, a professor of teaching with expertise in artificial intelligence and data science, crunched the numbers and built a new interactive website for Riverside County's annual point-in-time count of the homeless population. 
Like all counties that receive federal funds to help the homeless, Riverside County is required to conduct a survey of homeless people wherever they find them on a single day. The count, though not exhaustive, is intended to convey a snapshot of the conditions and locations that need services the most.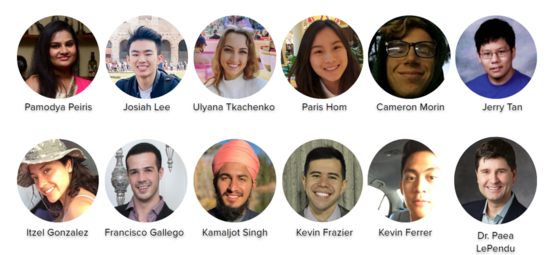 In the past, volunteers used paper forms to record information as they interviewed people in their encampments, on the streets, or at shelters. The information had to be entered by hand into computer databases and locations laboriously marked on maps. In 2019, the county switched to a smartphone and tablet app that automatically recorded GPS coordinates and uploaded data directly to a database. 
Last year, the county partnered with LePendu, who recruited a team of undergraduates to write sophisticated computer programs to sort, analyze, and present the data. The programs removed duplicate records and errors, and also performed calculations to arrive at sums, averages, and percentages. The students then summarized the data in colorful, easily read charts, graphs, and tables. 
The successful collaboration was renewed for the 2020 count, which was conducted in January. 
In a webinar hosted by the county to unveil the methodology and results of the count, one of the student team leaders, Ulyana Tkachenko, said the third-party app used to create the website last year was too limiting, so the student team created a website in addition to refining the analytical software developed by last year's team. The students built entirely from scratch a new web-based analytics platform that will streamline and automate future releases. 
"The website is more interactive and dynamic than last year's," Tkachenko said. "It has new dashboards for senior citizens, the newly homeless, a map, and tables for each city."
The count revealed Riverside County's homeless population has increased by 3% since last year, an alarming statistic that attracted media attention.
"With the number of homeless going up, it's tempting to think the problem is getting worse, but the number of volunteers has also gone up, so it could just be that we are reaching more people," Tkachenko said.
Tkachenko has been with the project since the beginning and has made it into her capstone course required to graduate in engineering.
Thumbnail image: Matthew Woitunski on Wikimedia Commons