Saru Recycling, a startup founded in 2019 by UC Riverside engineering students, was selected as one of seven finalists for Blackstone LaunchPad's annual pitch competition, vying to win up to $25,000.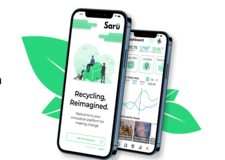 Saru aims to build solar-powered recycling containers that can hold and autonomously sort up to 365 gallons of recyclable materials and report information wirelessly to optimize pickups and waste management. The bins will be paired with a mobile app that lets users receive rewards for depositing recyclables. The Saru recycling system is being tested in front of Goodwin's supermarket and café, located just east of the UCR campus on Big Springs Drive in Riverside.
Saru founders Mahmood Shaheen, Toluwani (Semi) Cole, Sebastian Mukuria, Nathaniel Ortiz, and Jakeb Tivey believe their recycling program will encourage even the busiest college students to recycle by making payment instant and creating more accessible recycling units. Their goal is for the bins' data collection and waste-sorting abilities to help host institutions reduce labor costs and increase waste diversion rate. The startup received initial funding for its prototype from a pitch session at UCR's Creat'R Lab Cafe, which helped them secure additional funding and guidance from the campus' Office of Technology Partnership's Launchpad program.
"The Office of Technology Partnerships is the reason Saru has become what it is today," said Jakeb Tivey, director of finance for Saru. "The early support and mentorship from UCR's entrepreneurial network enabled us to make Saru a reality and compete on the national stage."
UC Riverside's Office of Technology Partnerships, or OTP, provides entrepreneurship training and support to students who wish to explore taking an idea to market. One of OTP's programs is the LaunchPad at UCR funded by the Blackstone Foundation and Techstars Network. Through this program, students have access to ongoing mentoring, training, pitch competitions, funding, and a variety of resources to advance their idea.
"Our LaunchPad program is currently assisting over 30 student-led startups," said Mai Temraz, entrepreneur-in-residence who leads LaunchPad at UCR. "We are proud of the Saru team and will continue to support them as they bring their technology to the market."
The Blackstone LaunchPad & Techstars Network hosts an annual pitch competition, where student startups from across the LaunchPad network throughout the United States pitch for a chance to win over $50,000 in prize money. The 2021 competition will be held virtually within Startup Grind's Global Conference taking place Feb. 22-25. 
In addition to competing for main prizes contestants are also in the running for a People's Choice Award. To vote for Saru, go to: https://www.blackstonelaunchpad.org/vote/. 
The winners will be announced on Thursday, February 25th on the Startup Grind mainstage.