Fifty-seven UC Riverside School of Medicine students found out where they will be spending the next three-to-seven years of their medical careers at the annual Match Day celebration held Friday, March 19, 2021.
Match Day is a nationwide event that marks the culmination of a rigorous, months-long residency interview program. At 9 a.m. in the west, the UCR students joined students across the country in opening an email from the National Resident Matching Program detailing where they will conduct their residencies. For the second consecutive year, the celebration was held online and streamed to family and friends.
Vice Chancellor for Health Sciences and the Mark and Pam Rubin Dean Deborah Deas, M.D., M.P.H., congratulated the students and thanked them and their friends and families for their hard work and support throughout the four years of medical school
"We are so excited with this milestone you have achieved," Deas said. "This has been an extraordinary year, one that no one could have predicted. I am so proud of you and how you have shown great perseverance and resilience throughout the pandemic."
"Although I know you have all faced hardships in one way or another, I believe that these hardships have shaped you in unexpected ways and prepared you for the future, as you take your roles as health care providers and advocates for your patients and communities," she added.
UCR's overall match rate was 97%, which was above the national average of 94.9%. Overall, 79% of the students matched in primary care and shortage specialties including obstetrics/gynecology, psychiatry, emergency medicine, and surgery. Fifty (86%) will remain in California, with 45 (78%) remaining in Southern California, and 21 (38%) remaining in Inland Southern California.
Senior Associate Dean for Education and the Salma Haider Chair for the Thomas Haider Program Emma Simmons M.D., M.P.H., said that the online celebration had its benefits.
"I truly believe that it is even more special, because you get to celebrate this day in the intimacy of your own home or special place with your family. How could it be any better?" she said.
There was laughter, hugs, and tears of joy as the students opened their emails, then more celebration as the students took turns coming on the screen and sharing their matches.
"I matched into my No. 1, Kaiser LA!" exclaimed Julia Devito through tears and hugs from family. "I was born there, so it is really special for me."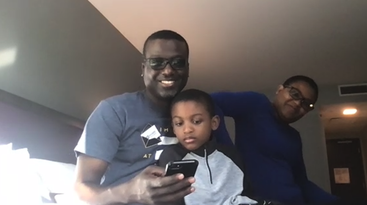 Medical student Julius Daniels, who will be staying in the Inland Empire, said, "I am thankful to God, and my family's and friends' support that allowed me to make it thus far. I am also very grateful for UCR SOM's faculty and staff that made an otherwise difficult journey navigable. We have matched to our No. 1 program, Riverside Community Hospital Family Medicine."
As the celebration wrapped up, Senior Associate Dean Brigham Willis, M.D., asked the students who had matched locally to return to teach future classes of students, to which Kevin Westbrook, who matched in Family Medicine at Dignity Health Northridge replied, "Even those of us who are going to LA for a little bit will be coming back to Riverside to teach the students."