UCR Anthropologist Worku Nida and a team of international scholars have just launched an ethnographic study of how Ethiopian immigrants make their futures and good life through informal savings and insurance associations in SoCal. For more details, please see here.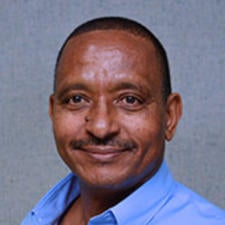 Professor Nida's study is part of a larger study entitled, "On the saf(v)e side: informal economic associations and future aspirations in the Ethiopian diaspora," supported with over half a million dollars from the German Research Foundation (DFG).  This project runs April 2021 and to March 2024, with an international team of researchers: co-directors, Dr. Sophia Thubauville (Frankfurt am Main), and Dr. Elias Alemu (Hawassa University, Ethiopia), and four collaborators: Professor Nida, and Dr. des. Kim Glück (Frankfurt am Main), Debela Gindola (Hawassa U.), and Marius Heimer (Frankfurt am Main).  In addition to the ethnographic field research, the project incorporates two international workshops, in April 2022 at Frankfurt University in Germany and in April 2023 at Hawassa University in Ethiopia.
The project builds on emergent anthropological interest in the 'good', aiming to understand how people work towards a 'good life' and a 'good future' through informal savings and insurance practices.  Thubauville and Nida will work on the US component of this multi-sited research, which encompasses four sub-projects covering Ethiopia and its largest diaspora populations (in the USA, Israel, and South Africa). In Ethiopia, the research examines how informal savings and insurance associations facilitate emigration, while the projects in the Ethiopian diaspora focus on the changes and continuities in the informal savings and insurance associations outside of Ethiopia. Thubauville and Nida will be exploring the roles of traditional rotating savings and credit, and insurance associations, equb and iddir, respectively, in shaping the futures of diasporic Ethiopians in Southern California.    
As a native Ethiopian living in the USA, Professor Nida is both a cultural insider and an academic outsider. Over the last 20 years, Nida has studied the Ethiopian immigrant community in Los Angeles, examining the ways Ethiopian immigrants build transnational communities and institutions around entrepreneurial and religious practices, including Ethiopian churches and mosques, and "Little Ethiopia." 
The new project extends this work through ethnographic research on Ethiopian informal savings and insurance associations and their roles in future-making and building good life among Ethiopian immigrants.  Nida plans to involve UCR students who are interested in the topics in the project and provide research mentorship. 
The project will also allow Nida to work in Frankfurt am Main, Germany, for two months, and travel to Ethiopia for a month, during the summer of 2022. In Frankfurt, he will analyze his research data and guide other participants of the project in their post-fieldwork data analysis, in preparation for publication. In Ethiopia, he will investigate savings, credit and insurance associations in Addis Ababa, in order to understand the changes and similarities with the Ethiopian diaspora in Southern California. 
Nida's collaborator, project co-Director Sophia Thubauville is a social anthropologist from the Frobenius Institute for Research in Cultural Anthropology in Frankfurt, Germany. Before joining the Institute in 2010, she did long-term research in Ethiopia from 2003, and directed the South Omo Research Center in Jinka, Ethiopia. Working in Ethiopia, she was impressed by the flexibility and efficacy of informal savings and insurance associations, and ever since then wanted to get a better understanding of them. In summer 2021 and 2022, she will be interviewing Ethiopian community members in Southern California regarding these associations. 
-- Story written by Worku Nida
Thumbnail photo: Businesses on Fairfax Avenue in the Little Ethiopia neighborhood of Los Angeles, California by Minnaert on Wikimedia Commons.