A special exhibition featuring the first nine Black fraternities and sororities in the United States and their impact at UC Riverside, is on display at the Tomás Rivera Library.
This exhibition, "Black Greek Letter Organizations: Divinely Made in the I.E.," is part of African Student Programs' 50th anniversary celebration. The exhibition is up until April 4, displayed on the fourth floor of the Tomás Rivera Library, Special Collections section. It was curated by Jamal Myrick, ASP director, and Jasmin Young, an assistant professor in the Department of Ethnic Studies.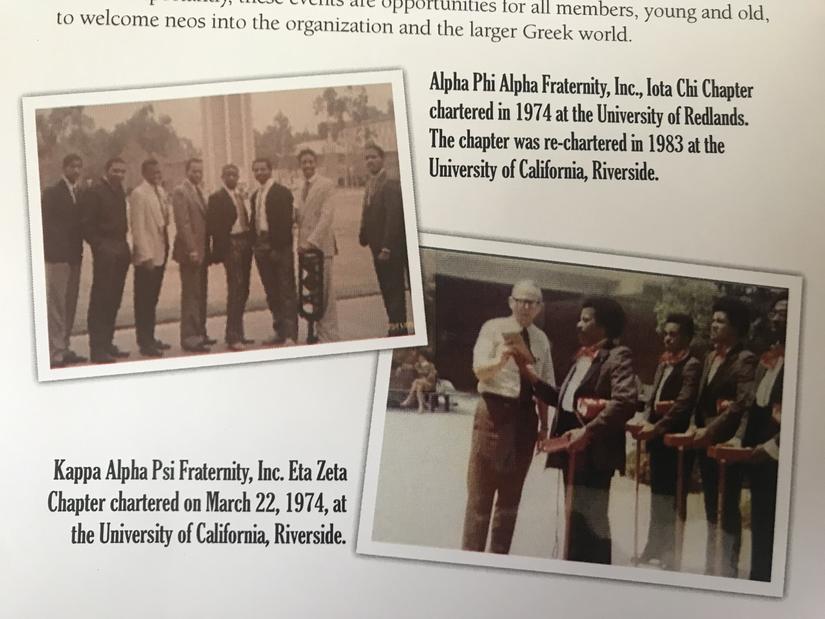 The exhibition tells the collective story of the Divine Nine organizations at UCR and beyond. Some of the organizations were created in the East Coast over 100 years ago. Over the years, chapters of Black Greek Letter Organizations, also known as BGLOs, sprang up across the country, including at UCR. The first BGLO at UCR was Kappa Alpha Psi Fraternity, Inc., eta zeta chapter, chartered on March 22, 1974. 
"Over the last five decades, BGLOs have graced the UCR campus, but the Divine Nine has had a tremendous impact on the Inland Empire that spans over 70 years. This history, yet to be told, will be featured in this exhibit as we showcase how BGLOs have shaped Black life on and off campus," Myrick and Young wrote in a statement. "In many of the same ways these organizations were incorporated to ensure perpetuity, this exhibit helps to keep this mutual history at UCR and in the IE alive.  We've done a lot of research and tried our best to capture the spirit of each organization since 1959 in the Inland Empire."
On Friday, March 18, 75 Divine Nine members, alumni, and community members joined African Student Programs in an afternoon of music, food, and remembrance. Women and men were dressed in shades of red, black, pink or green — colors representing their respective sororities or fraternities. 
Visitors toured the exhibition in Special Collections, which includes seven glass cases with photos, sweaters, books, maps, and other memorabilia of Divine Nine members at UCR and the Inland Empire. Myrick and Young reached out to local residents to borrow many of the items for this special exhibition.
More on the Divine Nine: 
•    Alpha Phi Alpha Fraternity, founded 1906, Cornell University
•    Alpha Kappa Alpha Sorority, founded 1908, Howard University
•    Kappa Alpha Psi Fraternity, founded 1911, Indiana University
•    Omega Psi Phi Fraternity, founded 1911, Howard University
•    Delta Sigma Theta Sorority, founded 1913, Howard University
•    Phi Beta Sigma Fraternity, founded 1914, Howard University
•    Zeta Phi Beta Sorority, founded 1920, Howard University
•    Sigma Gamma Rho Sorority, founded 1922, Butler University
•    Iota Phi Theta Fraternity, founded 1963, Morgan State University
Visit: UCR Special Collections, Monday - Friday, 10 a.m. - 4 p.m. Online details.