As his 40th birthday approached, Dennis McIver decided to use the date to celebrate UC Riverside as well as his own life milestone, encouraging friends and family members to donate to campus programs.
"I consider myself lucky in that I've been able to reap the benefit of so much here," he said. "UCR has always been so good to me, and I wanted to find a way to return the favor and direct some more support to campus."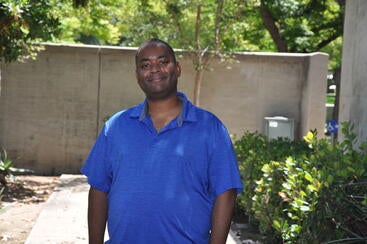 McIver, a financial services analyst with UCR's graduate division who has been an employee for more than six years, worked with the Office of Annual Giving to set up a crowdfunding page where he posted a video and a message suggesting gifts be directed toward two causes that he contributes to regularly and mean a lot to him: UCR Staff Assembly and University Honors.
The effort led to donations from friends and family members during his birthday in March, as well as questions from some of them about UCR and its programs, he said.
"I was really touched by it," McIver said.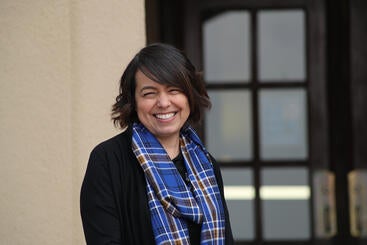 As part of Faculty and Staff Giving Month this May, UCR is celebrating employees like McIver who give back and encouraging faculty and staff members to contribute. The campaign includes emails, social media posts, and celebratory free coffee to faculty and staff at the end of the month.
"Faculty and staff, out of all people, know the great work we do at UCR," said Crystal Sankey, director of Annual Giving at UCR. "This is a time to celebrate faculty and staff who go above and beyond and give back to this place."
Donations of any size are welcomed, she said. They can be made directly online or through a payroll deduction form.
The SchoolsFirst Federal Credit Union has pledged $2,500 after 75 donors are secured, a goal that was already reached. It will provide an additional $2,500 if another 75 employees make donations. Other challenges provide matching funds to the Marlan and Rosemary Bourns College of Engineering Dean's Innovation Fund, the College of Humanities and Social Sciences Dean's Scholarship Fund, and the UCR Emeriti Association Graduate Student Travel Award Endowed Fund.
For Julie Salgado, events manager for the College of Humanities, Arts and Social Sciences, contributing to campus programs has been important throughout her 24 years working at UCR. She is enrolled in payroll deduction for Staff Assembly and has given to the Chicano Latino Alumni Endowment and Employee Emergency funds.
As a first-generation alum, Salgado relates to the challenges students face and the need to support them with scholarships. 
"We all have that common goal, whatever the need is, we're there to help," Salgado said.