The University of California has allocated more than $4.85 million in state funding to support California adults wanting to complete their college degrees or obtain a certification. 
UC Riverside is leading the initiative, dubbed the UC Degree Completion Program, alongside UC Davis, and in affiliation with existing programs at UC Santa Barbara, and UC Merced; the four campuses have collectively formed the University of California Reengagement Consortium, or UCRC. The initiative serves two populations: UC students with incomplete degrees, also known as "stop-outs" who left between 2008-2020, and California residents with some college and no degree attainment.
The two-year $4.85 million originates from the 2019 State budget. Enrollment for the pilot cohort will begin winter 2023. During the first two years, the initiative is looking to support nearly 800 students. 
The UC Degree Completion Program aims to support working professionals, unemployed, and underemployed adults, and to address specific barriers by helping with application fees, providing advising support, and alleviating challenges associated with familial and professional obligations, said Marie C. Martin, director of academic quality, integrity, and assessment at UCR University Extension.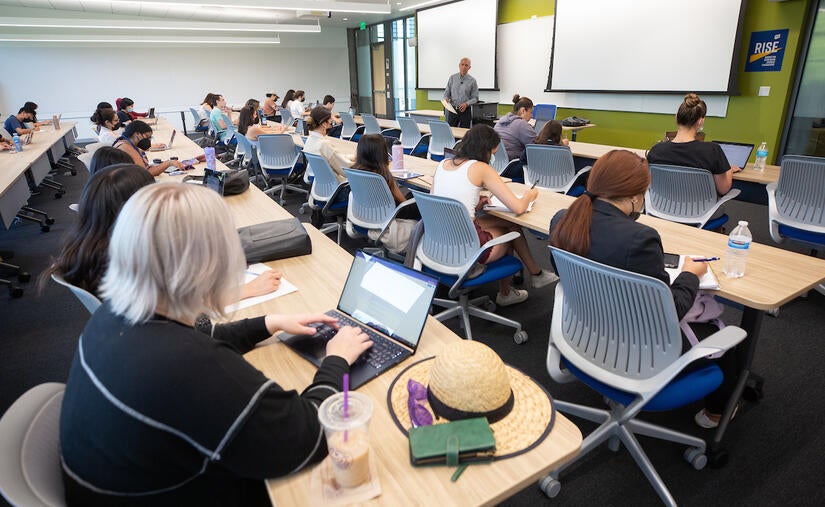 "We are so excited about the creation of the UC Degree Completion Program and working with our sister campuses to expand the reach and the impact," Martin said. "This program operates in a consortium model, meaning we will be pulling from each campus's expertise and supporting each other to in turn create a strong support network for our students. We want our students to come back, to complete their degrees. We want to offer solutions so that nothing stands in their way."  
Over the coming months a website and an outreach marketing campaign will be developed, Martin said.
According to UCR's student data analysis, 6,030 students who were in an undergraduate program between 2008-2020 left UCR in good standing but did not complete a degree. This included both first time freshmen and transfer students who come from under-represented minorities, 4,592 (76%), and first-generation students 2,901 (48%).
"I'm thrilled that we received these funds from the State of California to support our educational attainment efforts," said Kevin Vaughn, UCR University Extension dean. "Through our collaboration with multiple campuses, we will be able to serve students most in need throughout the state of California."
Questions regarding the program can be directed to Marie Martin at mmartin@ucx.ucr.edu.