For more than 2,000 years, pilgrims have walked the 500-mile path in Spain known as Camino de Santiago. Kathy Kim, a senior director of development, education, and policy at UC Riverside's Office of Development, was among thousands to make that journey this summer.
Kim used the opportunity to raise funds for the School of Public Policy Student Support Fund, pledging $2,500 in matching funds. She ended up raising $5,300 for the fund, which provides emergency assistance such as food and housing.
"I thought I would like to find a way to give back," Kim said. "I care deeply about SPP students. The students I interact with inspire me every day."
Traveling solo with just a 15-pound backpack, Kim hiked about 8 to 10 hours each day, traveling through small villages, historic towns, and rural countryside over the course of 32 days in hot and cold weather.
Also known as the Way of St. James, the Camino de Santiago is a network of paths that leads to the cathedral of Santiago de Compostela in Galicia in northwestern Spain. The remains of the apostle Saint James are believed to be buried there. Considered a major pilgrimage among Christians, more than 300,000 people took part in 2019, according to National Geographic magazine.
Kim began thinking about making the journey in January 2021, at the height of the pandemic, when she found herself in a deep funk around New Year's Eve. The idea had already been planted in her mind a few years ago when she saw a movie about the pilgrimage called "The Way," featuring Martin Sheen. 
Kim decided she wanted to find something hopeful to look forward to and began planning for the pilgrimage when it resumed. It had been canceled in 2020 and 2021 by the office that registers pilgrims due to the pandemic.
With the switch to remote work, Kim had begun using the time normally spent commuting to and from work to take walks in the morning and afternoon. She found that it cleared her head. It helped prepare her for the much longer walk she would take as she began researching Camino de Santiago by reading books and listening to podcasts on the subject and looking into footwear.
"I felt like I was already on the journey," Kim said.
With pilgrims allowed to return this year, Kim thought it was a fitting way to celebrate her 60th birthday, which was in April, shortly before her trip.
The pilgrimage has a few different routes with some going through France and Portugal to Spain. Kim took the Camino Frances route, one of the longest and most popular one, which begins in the French border town of St. Jean Pied de Port before going through Spain.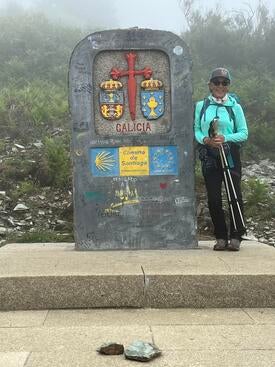 Kim began her hike on May 28 and walked every day, reaching the end on June 28. She would start walking around 7:30 a.m. and finish at 3:30 p.m., stopping for coffee and lunch breaks. At each stop, she would shop for provisions and do laundry as she only carried one change of clothes and three pairs of socks.
Many of the towns along the path were built to support pilgrims with cafes, restaurants, hostels, and boarding houses catering to them and priced affordably. Kim stayed at hostels and boarding houses, booking reservations in advance online as she made her way.
Much of the path crossed smaller and medium-sized towns that date back hundreds of years.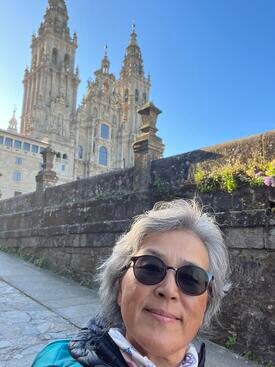 "You pass by really amazing, beautiful places," Kim said. "Walking is better than driving. You get to see a lot more."
The town streets and sidewalks featured directional markers, making it easy to find one's way without looking at a map, Kim said.
As an Ernest Hemingway fan, Kim particularly enjoyed visiting Pamplona and Burguete, two towns that the author had lived in and written about that featured historic markers about him.
The route was busy, due to the pent-up demand from those unable to go the previous two years. Kim often encountered fellow travelers, sometimes joining them for meals and exchanging WhatsApp numbers with some. Pilgrims would greet each other with "Buen Camino," or good walk.
While Kim enjoyed interacting with them, she often preferred the moments of solitude.
"It's a journey but it's also a journey within, allowing yourself time to reflect and take in the environment," she said.
Before starting, Kim said she initially felt some anxiety about whether she could complete it but once she began walking she felt a sense of guidance. She experienced tears and joy along the way and ultimately a sense of spiritual reconnection.
Kim said she's holding on to some lessons from the journey such as paring down to the essentials, letting go of ego, and being content with what she has.
"In a way, that journey still continues," she said. "Once you walk the Camino as a pilgrim, perhaps the life itself becomes a pilgrimage."