UC Riverside's Summer Sessions 2023 wraps up this week, with the last batch of summer quarter's final exams on September 2. Over 9,000 students enrolled in summer courses this year.
The concept of summer school got a reboot this year thanks to a collaboration between UC Riverside's Enrollment Marketing and Enrollment Services that emphasized the possibility of graduating earlier, catching up, or saving money.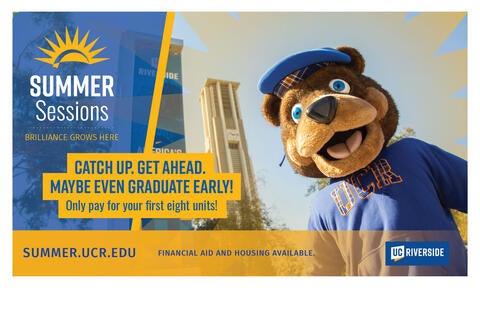 Luis Bravo, director of enrollment marketing, said the Summer Sessions 2023 campaign focused on several awareness initiatives, including:
Design refresh.
New tagline, "Brilliance Grows Here," which connected the Summer Sessions identity to UCR's brand creative campaign, "Bold Hearts. Brilliant Minds."
More purposeful call-to-action, "Catch Up. Get Ahead." was developed after survey data showed students want to take courses in the summer to get ahead on major requirements and graduate early.
Student testimonials video, which allowed students to learn the benefits of taking summer courses from their peers.
Increasing awareness and driving action during key enrollment dates, which included a digital advertising campaign that garnered 404,000 impressions and generated 122 leads via Instagram; along with 574,000 impressions and 21,000 sessions via Adelphic, a digital advertising tool.
The campaign also highlighted an eight-unit fee cap, meaning students could enroll in as many units as they could handle but only pay for eight units. Financial aid recipients could also get affordable on-campus housing.
"I am gratified by the substantial headway we have made over the past year in fostering awareness about the many benefits of enrolling in UCR's Summer Sessions," said Associate Vice Chancellor of Enrollment Services Emily Engelschall. Engelschall said goals are outlined in the Enrollment Services 2030 Strategic Plan.  
The team's anticipations for Summer Sessions 2024 include:
A partnership with the Academic Senate to expand flexible, online course offerings in the interest of facilitating students' timely degree progression.
Increasing awareness of summer session fees
Publicizing the per-unit fee for only the initial eight units, which will allow students to add additional units without incurring extra costs
Visit the Summer Sessions website for more details.