The Geological Society of America, or GSA, recognizes the academic excellence of only one university in the country each year, and this year, that honor goes to UC Riverside.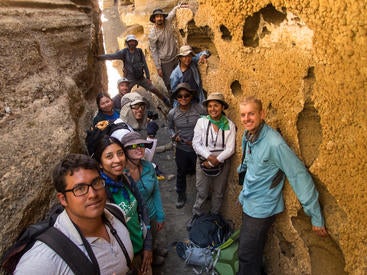 The GSA/ExxonMobil Field Camp Excellence Award is given to universities running a geology field camp, which is the last class geology students typically take before graduating. 
UCR's GEO 102A-B course involves spending over a month outdoors applying the concepts learned in classrooms to real-world projects. The award will be accepted by UCR Assistant Professor of Geology Nic Barth, who spearheaded efforts to develop the course and has taught it annually since its creation four years ago.
The society bestows the award based on safety awareness, diversity, and technical excellence. Technology and safety protocols already in place helped UCR's program earn it, and the award money is going to enhance the program even further. 
"Receiving this award is a special honor," Barth said. "Not only does it come with $10,000 for the winning program, but also the prestige of being selected from over 100 schools nationwide offering geology field camps."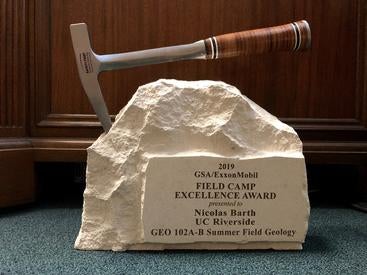 When Barth came to UCR five years ago, a field camp was required of majors, but not offered on our campus. 
"Students were spending up to $8,000 to take the course at another school, and the expense was causing some of them to switch majors," Barth said. "We are so fortunate to be able to offer this now at UCR, and to be recognized for the care we put into designing the experience."
Barth studies how earthquake faults and landslides alter landscapes, and fieldwork plays an important role in this research. He jumped at the chance to develop UCR's summer field program and uses it to pass on modern field skills to the next generation of geologists.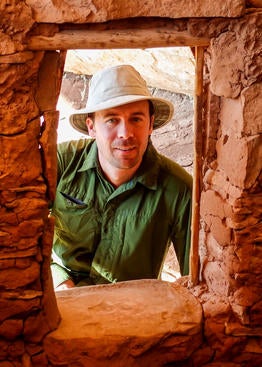 One of the factors that enabled the department to begin offering the course was a $5,000 Capstone Development Grant and a $40,000 Innovative Technology in Teaching Grant from UCR. The latter allowed Barth to incorporate the latest technology into the field course, such as drones and digital mapping tablets.
Working on a tangible project with these tools translates into skills that students can include on a resume, which gives them a leg up on career opportunities, and can help make them more competitive candidates for graduate school programs, Barth said. 
To improve the course, Barth has already used the prize money to purchase geotechnical equipment including a drone with a high-resolution camera and software that can process 3-D models of topography. 
"This award is a testimonial to the quality of our capstone field class, and in particular, to the incredibly hard work and vision of Nic Barth," said David Ogelsby, a professor of geophysics and former chair of the Department of Earth and Planetary Sciences. 
Barth will accept the award this coming Sunday, Sept. 22 at the GSA's annual meeting in Phoenix.