Richard "Ricky" Rodríguez believes he has one main obligation in life: help students succeed.
His commitment has earned him the recipient of the Richard A. Yarborough Award, granted by the American Studies Association, or ASA, the oldest and largest association devoted to the interdisciplinary study of United States history and culture. He will receive the award in November during ASA's annual conference in Honolulu.  
"This is a pretty big deal; I'm deeply honored and humbled. I'm actually still in a state of disbelief," said Rodríguez, an associate professor of media and cultural studies at UC Riverside. 
ASA awards this recognition to a scholar "who demonstrates dedication to and excellence in mentoring," according to its website. The prize was established in 2012 to honor UCLA professor Richard A. Yarborough "for his consistent dedication to mentoring and advising minority scholars."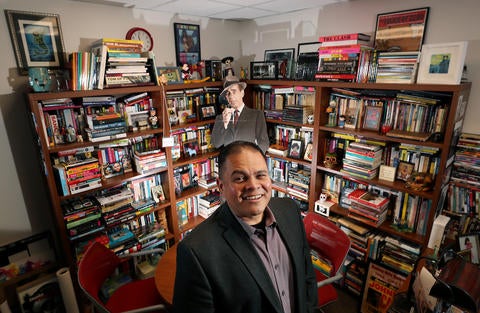 Rodríguez's former student and colleague, Mirelsie Velázquez, initiated the nomination. Eight other former students, many of whom are now professors, wrote letters of support.  
Velázquez, now an assistant professor at the University of Oklahoma, said she nominated Rodríguez because his commitment to mentoring has not faltered in the 15 years she has known him. 
"To me, Ricky exemplifies what it is to be a mentor across disciplines, across communities," Velázquez said. "Mentoring is more than office hours, it's about creating a sense of home, following up, checking in. He sees you through your humanity. He puts passion and compassion into mentoring." 
Rodríguez came to UCR in 2016 from the University of Illinois at Urbana-Champaign. At UCR, he quickly became an integral part of the campus; he's part of the University Honors program faculty team and serves as a resident advisor at the honors student housing unit.  
In June, he was recognized with the Charles Weis Service Award in recognition of his outstanding contributions to UCR's LGBT community.  
Coming to teach at UCR was an intentional decision, said Rodríguez, who grew up in Santa Ana, about 40 miles south of Riverside. He said he sought a job at UCR because he understood the power of teaching a diverse student population.
"My work with students doesn't end in the classroom," Rodríguez said. "I want to serve as a resource to help UCR students discover and pursue their long-term goals despite the odds they may be up against."