UC Riverside's Multidisciplinary Research Building received the top honor in the city of Riverside's annual beautification awards recognizing outstanding buildings.
The research facility, also referred to as MRB, was presented with the Award of Distinction at Riverside Mayor Rusty Bailey's State of the City address on Jan. 30.
Campus Architect Jacqueline Norman received the award from the mayor on behalf of the university.
The five-story, 180,000-square-foot building, which opened in January 2019, is the campus' largest and newest research building. It is the first campus building to attain a LEED Platinum certification for energy efficiency. LEED stands for Leadership in Energy Design and Environmental Design.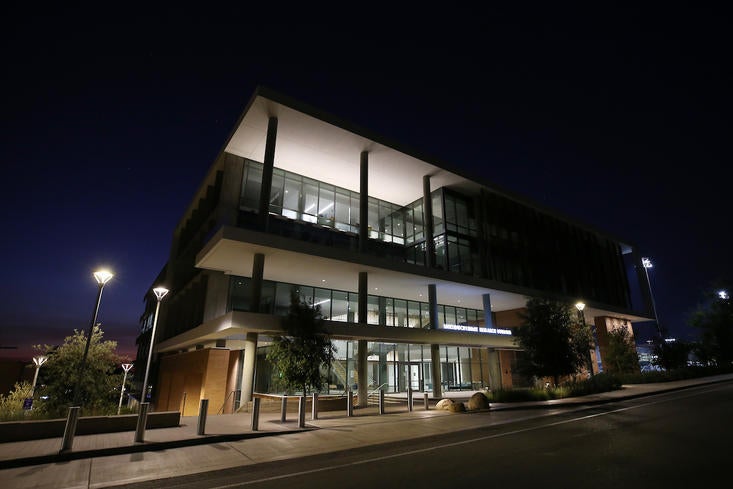 The 33rd Annual Beautification Awards was presented by Keep Riverside Clean and Beautiful, a program of the Greater Riverside Chambers of Commerce and the city of Riverside's public works department. The program looks at criteria such as architectural design, general maintenance, and landscaping in selecting buildings to recognize in its 16 categories.
In the awards presentation, MRB was praised as a state-of-the-art facility that provides "an innovative and collaborative approach to conducting advanced research initiatives world-wide."
Featuring a brick, concrete, and terracotta exterior, the building's design allows research teams from different fields of science to share large, open laboratory bays and work collaboratively using different approaches. A notable element of the building is its four-story atrium that offers natural light in communal sitting areas outside offices and conference rooms.