Allison Hedge Coke, a distinguished professor in the Department of Creative Writing, was named the Dan and Maggie Inouye Distinguished Chair in Democratic Ideals for the spring 2020 semester at the University of Hawai'i at Mānoa. Hedge Coke, who began her appointment in January, will serve as chair through May.
The Inouye Chair, which was established in 2005, honors U.S. Sen. Daniel Inouye — Hawaiʻi's first congressman and the first Japanese American elected in the House and Senate — and his wife, Maggie, for their lifetime of public service. The chair is held jointly by the Department of American Studies and the Richard S. Williamson School of Law.
This is Hedge Coke's second placement at the University of Hawai'i at Mānoa, having served previously as an invitational Visiting Distinguished Writer for Creative Writing in the university's English department during the 2014-2015 academic year. Previous Inouye Chairs include Ngugi wa Thiong'o, W. S. Merwin, John Sayles, Antonio A. Oposa Jr, Angela Davis, Viet Thanh Nguyen, Richard Parsons, Robert Waldinger, Walter Echo Hawk, Ai-jen Poo, Chris Eyres, Marcus Rediker, Christina Romer, Frederick Wiseman, and David Cole.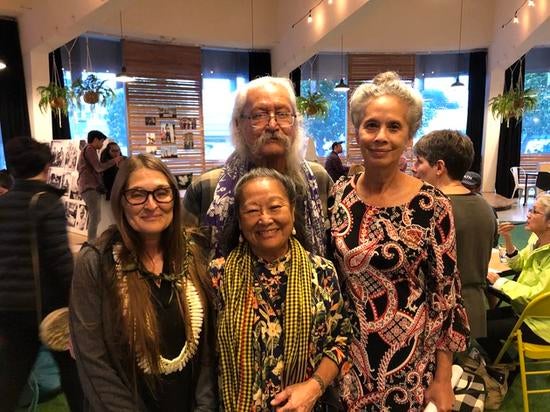 "I am entirely honored to be a return guest on the Kanaka 'ōiwi (ancestral people of the bone) 'āina (land/homeland); it is a significant honor to be invited to fill this position and a tremendous honor to be in this company," Hedge Coke said. "I am grateful for the opportunity to serve the community here."
The goal of the Inouye chair is to "enrich the university's offerings in American arts, letters, politics and society, and to extend to an accomplished figure the opportunity to take part in the scholarly and social life of the University of Hawai'i at Mānoa." To that end, Hedge Coke is collaboratively teaching a twice-weekly course for the Department of American Studies along with poet, critic, and Undergraduate Chair of American Studies, Brandy Nālani McDougall. The course centers on Indigenous lands and waters, focusing on environmental concerns and Indigenous peoples' rights. Hedge Coke worked with McDougall previously, in collaboration with University of Hawai'i creative writing professor Craig Santos Perez, to release "Effigies III," a compilation of four books of poetry by queer female Native Pacific Islander poets, which was published in 2019.
"Like UCR, the UHM students are just phenomenal participants," Hedge Coke said. "In our course, there are many Kanaka Maoli students and many islanders from throughout the Pacific. I'm very happy to work with those attending the course."
In addition to teaching, Hedge Coke has been participating in events, readings with local poets, presenting a keynote talk, and offering visiting presentations at other University of Hawai'i campuses, including Maui College, where she offered a narrative in film class presentation and presented film clips from "Along the Chaparral," an ongoing project part of the nationwide Veterans Legacy Program, which Hedge Coke spearheads.
Through her role as the Inouye Chair, she hopes to continue to strengthen relationships between the University of Hawai'i and UC Riverside, also noting two current UCR graduate students, Nicole Ku'uleinapuananiolikoawapuhimelemeleolani Furtado and Joseph Cárdenas, who collaborated with her on "Along the Chaparral" came to UCR following their time at the University of Hawai'i at Mānoa.
"They each contribute greatly as graduate fellows for our UC Riverside Along the Chaparral project," Hedge Coke said. "I am honored to be here on their homelands now and look forward to catching up with them, following. [While serving as the Inouye Chair], I hope to be of service, to learn from my colleagues and the community here, to be a good guest and ally, and to form future collaborative opportunities for UH and UCR faculty, students, and communities." 
Much like UC Riverside and the rest of the nation, Hedge Coke has had to adjust to remote instruction due to the COVID-19 outbreak, noting the University of Hawai'i's campus operations moved online in early March. Her keynote has now been transformed into a film project, which has given her the opportunity to collaborate with other writers and creators including poets McDougall and Perez, and filmmaker Noelle M.K.Y. Kahanu, among others. An online public talk featuring Hedge Coke will also be offered April 22.
Despite the unexpected transition, Hedge Coke has been greatly enjoying her time in Hawai'i and has found it to be a fruitful and rewarding experience.
"It is remarkable to be able to spend an extended stay here," she said. "I continue to cherish the poetics, intellect, and art of Kānaka ʻōiwi and many Pacific Islanders. I also enjoy my solitude with an amazing bird population and plant life. These mountains cradle the neighborhood I am living in. Each morning breaks with solid beauty. Hopefully, I will take hold of the meanings before me and do some worthy work with it when I return."