Julie Salgado, a past president of UC Riverside's Staff Assembly, is a recipient of the Kevin McCauley Memorial Outstanding Staff Award for her leadership in promoting staff.
Recipients are selected by the Council of University of California Staff Assemblies, the umbrella organization for Staff Assembly units across the UC system. Named in honor of McCauley, a former UC Office of the President chief of staff, the award recognizes forward-thinking employees who are supportive and inclusive of staff and encourage equity, diversity, and community.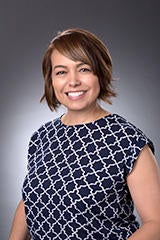 Salgado, a UCR employee for 21 years who works as event services coordinator in the Facilities Management department of the College of Humanities, Arts and Social Sciences, was presented with the award during an online UCR Staff Assembly meeting May 13 — to her surprise.
"I am truly honored and blessed to receive this award," said Salgado, who was moved to tears by the presentation.
She became involved with Staff Assembly in 2014 as director of events and served as president for the 2017-18 academic year. She currently chairs the Leaders of Excellence and Distinction, or LEAD, program which fosters professional development for staff.
Salgado described her work as connecting and building relationships with senior leaders and breaking down barriers between students, faculty, and staff members.
"We all realized that we basically have the same issues, and if we work together we can go further," she said.
In a video tribute, campus leaders and colleagues including Chancellor Kim A. Wilcox praised Salgado's leadership and warm personality, describing her as someone who has made a huge impact on the campus.
"She has held a range of leadership positions on multiple campus organizations and conducted herself with a high level of organization, cooperation, and kindness in each," said Dennis McIver, UCR Staff Assembly vice-president and president-elect. "She embodies the best aspects of UCR in everything she does and does it with grace and understanding."
The video is available to view on the Staff Assembly Facebook page.