Mona Eskandari, an assistant professor of mechanical engineering, has been awarded the 2020 Marlan and Rosemary Bourns College of Engineering Distinguished Teaching Award.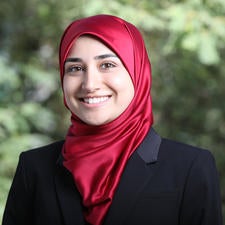 Students praised her knowledge and teaching skills, crediting her active-learning techniques with better preparing them for engineering careers.
"Professor Eskandari was selected for her effective and motivational pedagogy, equipping students with enduring engineering concepts," said Christopher Lynch, dean of Bourns College, in a June 23 email sharing the announcement with college faculty and staff.
Eskandari joined UCR in 2018 after earning her doctorate at Stanford University and completing a postdoctoral fellowship at UC Berkeley. Her area of expertise is structural mechanics, specializing in biological systems. She is principal investigator of the bioMechanics Experimental and Computational Health laboratory (bMECH lab). She researches the underlying science of respiratory function to improve interventions for lung diseases, which is increasingly important due to the COVID-19 pandemic. 
Eskandari also received a plaque recognizing her as a 2020 Outstanding Faculty Mentor from UCR's University Honors program. She previously received the Early Engineering Educator Award for innovative teaching from the American Society for Engineering Education and was a recipient of the prestigious K.P. Cross Future Leader of Higher Education Award from the Association of American Colleges and Universities.