Caroline Roper, an associate professor of plant pathology; and Shou-Wei Ding, 
a professor of plant pathology; are among the 2020 award winners from an international professional organization of plant pathologists.
The American Phytopathological Society, or APS, regularly honors individuals who have made significant contributions to the science of plant pathology. Roper and Ding were presented with their awards at the APS annual meeting held online Aug. 4.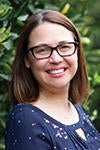 Roper received the Lee M. Hutchins Award due to her series of seven papers published in APS journals in the last 10 years, including Molecular Plant-Microbe Interactions and Phytobiomes. The award is presented to authors of published research on basic or applied aspects of diseases of perennial fruit plants.
"It is truly an honor to have been recognized by my colleagues and the American Phytopathological Society, a professional society I have belonged to since starting graduate school," Roper said, acknowledging her students, postdoctoral researchers, and others who contributed to her work.
Roper earned her bachelor's degree from the University of South Carolina and her doctorate in plant pathology from UC Davis. As a faculty member at UCR, Roper studies the biology of the intricate interactions between pathogens and their hosts and other microbes that make up the plant host's microbiome.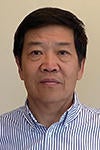 Ding received the Noel T. Keen Award for his research on the molecular basis of plant antiviral defense and virus counterdefense. The award recognizes research excellence in molecular plant pathology.
"It's a great honor to receive the award named after Dr. Noel Keen, who was a distinguished professor from UCR and a pioneer leader in molecular plant pathology," Ding said, adding that he wanted to thank his collaborators and funding agencies including the Department of Agriculture and California Citrus Research Board.
A faculty member at UCR for 20 years, Ding received his bachelor's degree in plant protection from Anhui Agricultural College and a master's in biology from Fudan University, both in China. Ding then earned his doctorate in plant molecular biology from Australian National University. 
Ding's recent research has greatly advanced the understanding of the mechanism controlling antiviral RNA interference, or RNAi, in plants.