Cengiz Ozkan has been awarded the 2020 TUBITAK Scientific Achievement Award, Turkey's highest scientific honor. 
The Turkish Scientific Research Council, or TUBITAK, is the equivalent of the National Science Foundation in the United States. The president of Turkey, Tayyip Erdogan, will present the award at a ceremony toward the end of this year.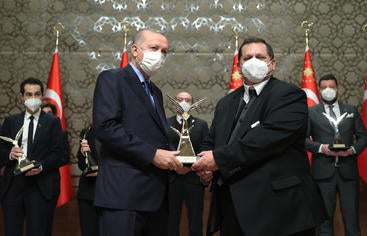 Ozkan is a professor of mechanical engineering and materials science and engineering at the Marlan and Rosemary Bourns College of Engineering. Given annually by the Turkish Scientific Research Council, it is the most prestigious award bestowed upon scientists, engineers and inventors abroad for pioneering accomplishments in research and innovation with international distinction.  
Ozkan received his doctoral degree in materials science and engineering from Stanford University. His research interests include the design and synthesis of nanoscale materials for energy storage, nanoelectronics and sensors, bottom-up fabrication of bio-nano systems, fundamental understanding and characterization of electrical and optical properties of nanoscale materials, and nanoscale structure–property relationships.
Ozkan has been a member of several prestigious centers, including the SRC Center on Functional Engineered Nano Architectonics; the NCI Center for Nanotechnology for the Treatment, Understanding and Monitoring of Cancer; the SRC Center for Spintronic Materials; Interfaces and Novel Architectures; and the NSF Materials Research Science and Engineering Center on Polymers. 
To date, he has published 165 journal articles, and has a total of 32 U.S. and foreign patents granted in the areas of lithium-ion batteries, supercapacitors, nanomaterials processing, and nanodevices. Earlier this year, Ozkan was named a fellow of the Materials Research Society, and he will be serving as a global meeting chair for the group's fall 2021 meeting in Boston.
"I am deeply honored to be receiving this prestigious award," Ozkan said. "I am delighted that our innovative research at UCR on energy storage, nanomaterials and nanoelectronics is being recognized. I would like to thank my students, my collaborators and my colleagues for their support."
Since 2007, 17 Turkish scientists abroad have been recognized with this award for their pioneering accomplishments in engineering, physical sciences, and life sciences.