Nael Abu-Ghazaleh has been named a Distinguished Member of the Association for Computing Machinery "For Outstanding Scientific Contributions to Computing."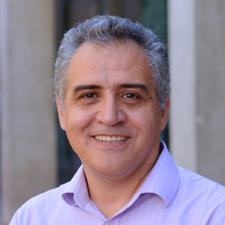 "I am honored to receive this recognition of the research in the Secure and Efficient Architectures and Systems Lab at UCR, and in turn wish to recognize the amazing creativity and hard work of my students and collaborators who made it possible," said Abu-Ghazaleh, a professor of computer science and engineering and electrical and computer engineering at the Marlan and Rosemary Bourns College of Engineering.
Abu-Ghazaleh's research explores vulnerabilities in the design of computer hardware that can be exploited by hackers through software. It also considers new processor designs that do not expose vulnerabilities and that provide new security models and techniques that can help to secure software. His team has uncovered a number of vulnerabilities in commercial processors and has worked with companies such as Intel and Nvidia to disclose vulnerabilities and explore defenses and mitigations.
The Association for Computing Machinery, or ACM, Distinguished Member program recognizes ACM worldwide membership based on professional experience as well as significant achievements in the computing field. Inductees are longstanding ACM members and were selected by their peers for a range of accomplishments that move the computing field forward. Distinguished Members also serve as mentors and role models, guiding technical career development and contributing to the field beyond the norm.