Two new UC Riverside projects and the almost decade-old community garden were recognized in the city of Riverside's annual beautification awards in January.
The Dundee Residence Hall and Glasgow Residential Restaurant won second place in new construction with landscaping; the renovation and expansion of the Barn received the historic and cultural preservation and new project with landscaping award; and R'Garden was recognized for sustainable design and innovation.
The Keep Riverside Clean and Beautiful Awards were announced Jan. 28 by Riverside Mayor Patricia Lock Dawson at the State of the City Address.
The program, now in its 35th year, is sponsored by the Greater Riverside Chambers of Commerce and the City of Riverside's public works department. It looks at criteria such as architectural design, general maintenance, and landscaping in recognizing significant buildings and projects.
"I firmly believe that good design affects community for the better, and it is profoundly gratifying to have these great projects be recognized for their contribution to Riverside," said Jacqueline Norman, UCR campus architect. "These projects are a reflection of UCR's mission to enrich our community's social, cultural, and environmental future."
The Dundee Residence Hall, the first major new student housing project in six years, opened last fall. It consists of two seven-story buildings shaped and situated to create a shaded outdoor courtyard alongside a landscape of pathways and gardens.
The building is designed to accommodate up to 820 beds. The ground levels feature classrooms and shared amenities including a fitness center, lounges, study areas, multipurpose room, and a laundry room.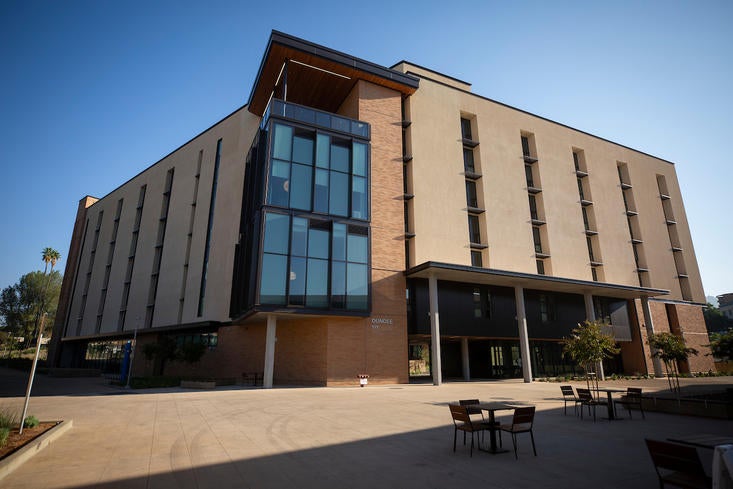 Glasgow is the campus's largest and most modern dining venue with an 830-seat capacity on two floors, exhibition bakery, and a 3,500-square-foot commercial kitchen with nine walk-in cooler/freezers. 
The building is decorated with plants of contrasting colors and shapes and features glazed curtain walls with views of the neighboring Box Springs Canyon.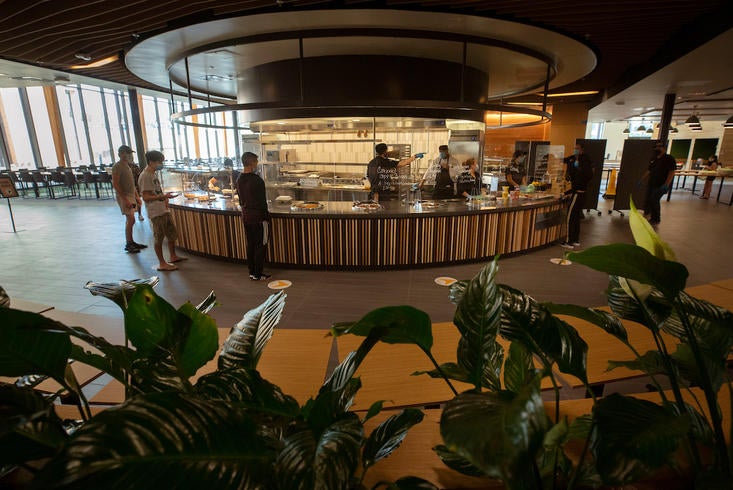 A campus landmark that dates back to 1917, the Barn reopened last year with expanded cooking and dining space. The complex, which includes interior wood reflecting its early days as a horse stable, now includes three buildings, an outdoor stage, two large patio areas, a theater, and a 27-foot-tall ticket tower.
"As a respectful integration of the old and the new, the planning and design of The Barn pays homage to the university's rich agrarian and cultural heritage even as it showcases present-day ideas of sustainable adaptive reuse and resource-conscious design, all woven together by an elegant landscape of water-efficient flora suited to the region," according to the awards submission.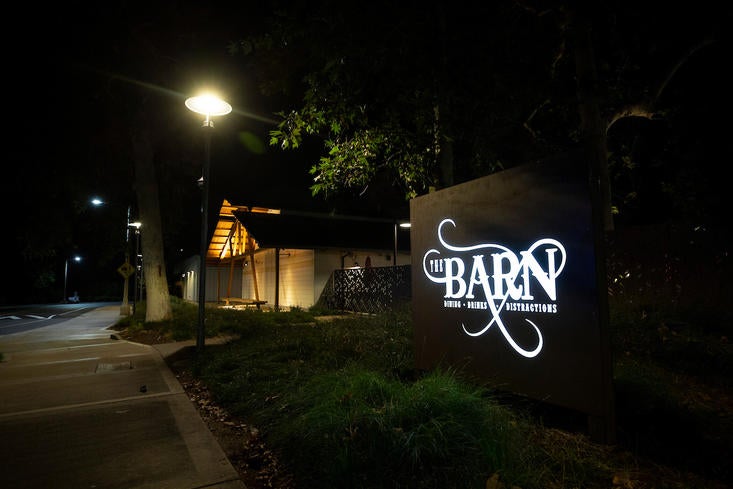 R'Garden, first established in 2012, offers ecologically conscious community programs, interdisciplinary seminars, and a native plant demonstration project tended by students from the Native American Student Programs. 
Three acres are devoted to growing produce for the student residential restaurants and R'Pantry. During the pandemic, staff members and student interns continued to cultivate and harvest hundreds of pounds of produce to students experiencing food insecurity.
"UC Riverside R'Garden is an 8-acre community garden that promotes service learning, community development, and community-based research through student-led projects, collaborations with the campus, and the Riverside community that enable its students to learn, live, and work in Riverside while promoting the institution's commitment for wellness, diversity, and sustainability," the campus wrote in its submission.