Janet Franklin, a distinguished professor of biogeography in the Department of Botany and Plant Sciences, has been named a recipient of the 2021 Distinguished Landscape Ecologist Award by the North American Chapter of the International Association for Landscape Ecology.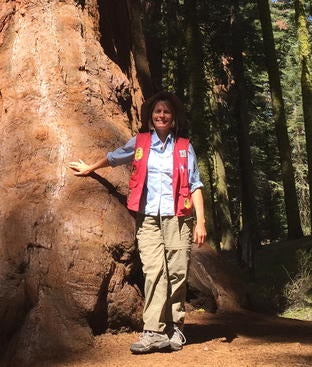 The award, to be presented at the group's annual conference April 14, is the highest honor bestowed by the association recognizing individuals whose thinking and writing have helped shape the field of landscape ecology.
Franklin recalled going to her first meeting of the association in 1989 and finding her intellectual home.
"It really means the world to me to join the ranks of the recipients of this award," she said. "All previous recipients have inspired me with their work, taught me, mentored me, and in some cases I have had the good fortune to collaborate with them. I love IALE-NA for all the reasons people usually give — we really support, include and embed students in all our efforts; we span research and practice, theory and application."
In nominating Franklin, the association cited her contributions to conservation biology, global change biology, and species distribution modelling. In the latter area, Franklin's work was described as especially noteworthy for combining geospatial data analysis and modeling with innovative fieldwork and technological developments.
One of Franklin's nomination letters stated that her "work has made tremendous positive impacts on biodiversity assessment, reserve design, habitat management and restoration, species and habitat conservation plans, and prediction of the effects of environmental change on species and ecosystems". 
Franklin is the author of the influential 2010 book "Mapping Species Distributions: Spatial Inference and Prediction."
In 2014, Franklin was elected to the National Academy of Science. In 2015, both the Ecological Society of America and the American Association for the Advancement of Science named her as a fellow. In 2020, the American Association of Geographers recognized her with the James J. Parsons Award for Outstanding Lifetime Achievement in Biogeography. 
Franklin joined UCR in 2017. She previously taught at Arizona State University and San Diego State University, where she spent much of her career after completing her doctorate in 1988 at UC Santa Barbara.